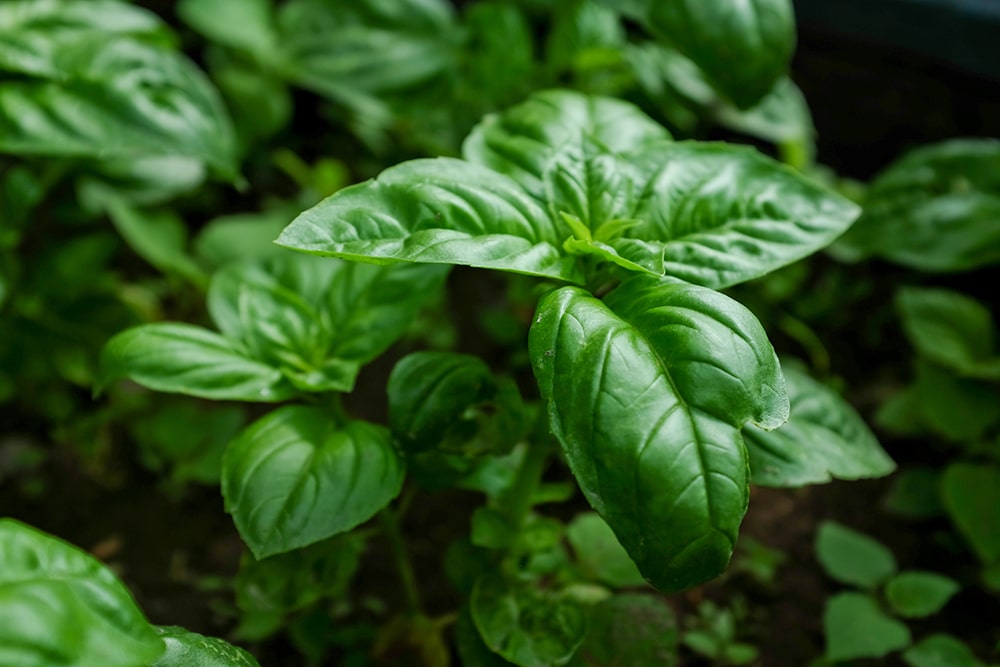 Basil is an herb that is as old as time. It has been used since ancient times for my purposes mainly for medicinal properties. There are many types of Basil available in the market such as Sweet Basil, holy Basil, lime basil, lemon basil, purple Basil, among others. Basil is used to cooking in many dishes such as Italian, Indian and Thai cuisine. It has a strong smell and a very intrinsic flavor to it. Citronellol, linalool, cinnamate, geraniol, terpineol and pinene are the various kinds of oil present in Basil.
Here are several benefits of basil powder:
Basil stimulates digestion: Basil works wonders when it comes to digestion. If you have indigestion, you should try swallowing a few leaves of Basil or have basil drops with water. It is also beneficial when it comes to curing headaches and insomnia. You can restore the proper pH level of your body and balance your bodily acid with the help of Basil.
Helps to reduce inflammation: Basil leaves help to reduce any inflammation that you may have incurred due to any disease or disorder due to its anti-inflammatory properties. Basil contains many essential oils such as eugenol, citronellol and linalool, which stimulate the same. You can get rid of any risk of inflammatory bowel conditions, rheumatoid arthritis or even the risk related to any heart disease with the help of Basil's anti-inflammatory properties. Basil powder benefits include soothing fever, headache, sore throat, cold, cough, flu.
Basil Skin Benefits: The skin benefits of Basil include cleansing properties. It helps to clean your skin from within its essential oils. It helps to remove dirt, pollution and other acne-causing impurities from your skin. You can try to make a paste out of sandalwood paste, basil powder paste, and rose water. From here all you are required to do is apply this concoction to your face and leave it for about twenty minutes after which wash it off with cold water. This will not only replenish your skin but keep all pimples at bay.
Helps to reduce stress: You can try to use basil essential oils to help reduce stress. It helps in the form of aromatherapy. If you suffer from anxiety or depression and are constantly under stress, you can try to use aromatherapy in treating your stress.
Helps to keep diabetes in check: Diabetes is a severe condition which has no cure it can only be kept in balance and Basil helps to do the same. You can even slow down the release of sugar in your body by consuming Basil. Some of the most persistent risk factors of diabetes which is triglyceride and cholesterol levels can be reduced by making Basil a part of your diet.
Heals upset tummies: An upset tummy is due to indigestion in your stomach. Indigestion may take place for various reasons, be it eating too fast or overeating or overeating unhealthy food. Basil powder helps to keep your stomach cool and cures an upset tummy. If you have indigestion, you should consider having basil powder mixed in water as it will cure it instantly.
Basil helps to keep your liver healthy: Having basil powder has proven to show that it can help to keep the health of your liver intact and in place.
Having Basil to cure stomach ulcers: Stomach ulcers can be cured if you have Basil. Having basil leaves once a day will prove to be beneficial in preventing them from happening ever again.
Antioxidant: Basil is a potent antioxidant; the essential oils present in it have proven to be correlated with its eugenol content.