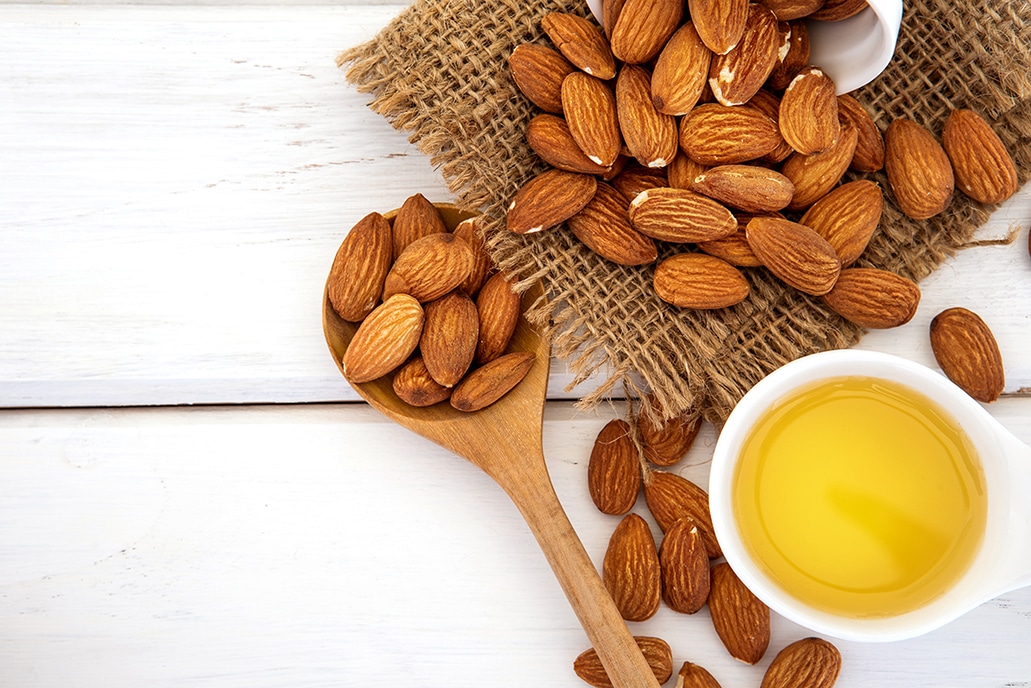 BEAUTY BENEFITS OF ALMOND OIL
Where Does Almond Oil Come From?
Almond oil comes from the almonds from an almond tree. These are edible seeds that come from its fruit, which looks almost like a peach.
The almond oil's almonds are usually of the sweet variety, as the bitter ones tend to be more toxic. Sweet almonds have health benefits, but you need to get the unrefined versions. These have better nutrients and no preservatives.
The refined oils tend to replace vitamin E with chemicals compared to the unrefined, which holds more of its nutrients.
What Are Its Benefits?
Almond oil has unsaturated fats and vitamin E, which are the most important of its nutrients. Because of these nutrients, it can have positive effects on your body.
These include:
1. Improves congestion through aromatherapy.
Almond oil is shown to aid in help with sinus congestion. Almond oil is mixed with other essential oils because, by itself, it absorbs into the skin quickly and does not evaporate well. The essential oils mixed with almond oil makes it safer for your skin.
2. Helps with acne and the aging process.
The vitamin E in the almond oil is good for your skin. It can help treat acne and reduce scar visibility. It also can help you with inflammation. Vitamin E can also protect your skin from skin cancer and signs of aging.
3. Use as a moisturizer.
Almond oil can be used as a moisturizer, which can help reduce the symptoms of eczema and psoriasis. This also makes your skin smoother to the touch.
4. Boosts your blood circulation.
There is also some evidence of a reduction in dark circles around your eyes with the use of almond oil. It achieves this by helping increase the circulation of blood around your eyes when you massage the oil into your skin, which in turn helps to reduce the dark circles. Do this procedure overnight and wash your face in the morning. Doing this for about a week or so will show you visible changes in your dark circles.
5. Helps with sunburn.
Almond oil is also shown to help with the damaging effects of UV radiation. It achieves this by repairing the structural damage that the sun can cause your body. It also can prevent sunburns by this effect as well.
6. Helps with stretch marks.
Almond oil can help reduce the chances of you getting stretch marks from your pregnancy. However, bitter almond oil is used for this purpose, not the sweet one. You must consult with your doctor first, as using almond oil during pregnancy can cause a preterm birth for the baby.
7. Can reduce or prevent wrinkles and eye bags.
The sweet almond oil can also help smooth the wrinkles around your eyes and other places on your skin while giving you smoother, softer skin, try using deOrta face scrub. It can also help with getting rid of under-eye bags.
8. Good for lip health.
Almond oil may help treat your dark or chapped lips, however, there is not much evidence to support this theory. However, since almond oil smooths the skin, it may help rough, chapped lips become smoother, try using deOrta face scrub.
9. Improves scalp and hair health.
If you use almond oil in your hair, it may make it feel softer and less brittle. This might make it easier for you to brush your hair and style it. Since almond oil has high vitamin E nutrients, it can reduce the risk of alopecia, boost your hair growth, and also help with any oxidative stress in your scalp.
10. Reduces dry scalp and dandruff.
Since almond oil has soothing properties, it can also reduce the chances of getting dry scalp if used in your hair. It can also treat already dry scalp. It may also treat dandruff issues as well.
Potential Side Effects
If you decide to use bitter almond oil for pregnancy benefits, consult your doctor first. Using this or any other almond oil during pregnancy may result in preterm birth for your baby. Use caution and keep this in mind if you decide to use it.