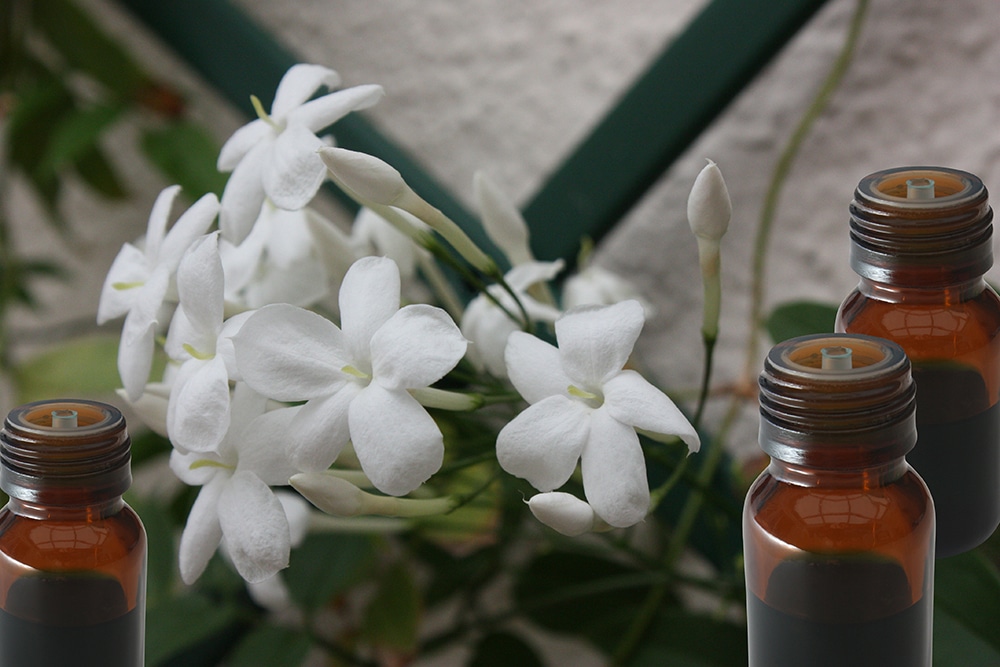 BEAUTY BENEFITS OF JASMINE OIL
Where does Jasmine Oil Come from?
The unmistakable sweet and romantic smell of jasmine makes it a renowned and sought-after essential oil in almost every part of the world. Jasmine is originally from Northern India and China but found its way to Spain when the Moors brought it to the country. Egypt is presently the top producer of jasmine plants while countries like Japan, China, Italy, and Turkey also produce high-quality jasmine oil.
Jasmine oil is well-loved by many people, especially women because it's a potent ingredient in most perfumes. Moreover, it has many health benefits and uses for the skin, hair and overall wellness. Let's discover the countless wonders that jasmine oil has to offer.
• Jasmine is known by the scientific names Jasminum grandiflorum or royal jasmine and Jasminum officinale or common jasmine wherein the essential oil is extracted from. Most of the varieties of the jasmine flower are white but some varieties have a yellow color.
• The extraction of jasmine oil undergoes a process that includes solvent extraction, separation with alcohol and finally by steam distillation.
• The essential oil's chemical composition is made up of almost 100 constituents which include the following: geraniol, isophytol, benzoic acid, benzyl benzoate, eugenol, and linalool.
• It is very expensive because it takes millions of flowers to extract at least one kilogram of it.
• It blends well with sandalwood, rose and citrus oil.
What are its benefits?
These are some of the health benefits of jasmine oil for your hair and skin:
1. It softens dry skin and heals itchy scalp, eczema, and dermatitis.
Jasmine oil has moisturizing properties which makes it very effective in treating dry skin and scalp. For dry and itchy scalp, simply add a few drops to your scalp oil for instant relief.
2. It has anti-aging benefits.
This essential oil helps prevent fine lines and slows the aging process because it promotes collagen production. Simply apply a few drops of the oil to your face and neck every night as part of your skincare routine.
3. It reduces the oiliness of the skin.
Jasmine oil has hormone-balancing properties which reduce the skin's oiliness and also results in a healthy glow.
4. It eliminates stretch marks and heals scars.
It has a natural cicatrizing effect that heals scars and wounds. It also reduces the appearance of stretch marks and acne spots.
5. It strengthens and hydrates the hair.
Since it has moisturizing properties, jasmine oil helps strengthen and hydrates hair while giving life to your natural curls. It tames the frizz and naturally softens the hair.
Other Uses of Jasmine Oil
Aside from the great benefits for the hair and skin jasmine oil also has other great medicinal uses which include the following:
6. It prevents infections.
The anti-viral, anti-bacterial and anti-microbial properties of jasmine oil help to protect from common infections due to wounds such as tetanus. It's also a good disinfectant and has antiseptic properties as well.
7. It is a great antidepressant and uplifts the mood.
When used for aromatherapy massage, jasmine oil considerably uplifts the mood and greatly reduces depressive tendencies. Inhalation of this oil has a good effect in brain activity and you become more energetic and positive.
8. It's a potent aphrodisiac.
Jasmine oil has long been believed to be an aphrodisiac and this may be because of the stimulant effect on brain waves that makes a person more attuned to romance.
9. It facilitates lactation and delivery in childbirth.
It promotes the flow of breast milk among nursing mothers and helps ease delivery in childbirth by relieving labor pain and strengthening the contractions.
10. It gives relief from cough, laryngitis, and hoarseness of voice.
Jasmine oil is an effective expectorant that soothes an irritating cough and prevents laryngitis.
11. It decreases menopause symptoms.
This essential oil effective lessens menopause symptoms through aromatherapy massage at least once a week. By doing so, it eases hot flashes, depression and erratic moods association with the menopausal stage.
Potential Side effects
Despite its many benefits and advantages, jasmine oil also has its share of adverse effects. Although rare, some people may develop allergic reactions to it. It shouldn't be consumed in high doses because of its highly sedating effect. Pregnant women are advised not to use it until the time of actual childbirth due to its emmenagogue characteristic or the ability to stimulate menstrual flow.
Jasmine oil has been proven to have much medicinal and health uses because of its anti-bacterial, anti-spasmodic, anti-viral and anti-depressant properties. It's also an aphrodisiac and popular as an active ingredient for fragrances and aromatherapy massage. However, it's best to use it with caution especially if you're pregnant or if you have sensitive skin and prone to allergic reactions.