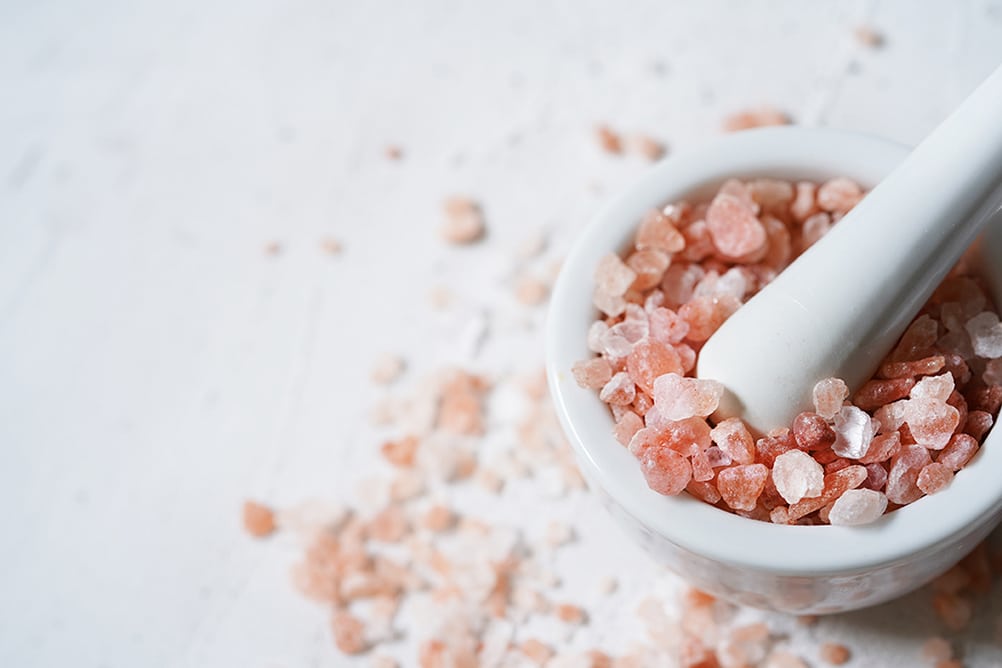 BENEFITS OF HIMALAYAN SALT FOR HEALTHY SKIN
Where does Himalayan Rock Salt come from?
Himalayan salt has gradually become a favoured thing for many people because of its vibrant colour and distinct taste in recent years. This trendsetting salt is assumed to be better than table salt because of its very high mineral content and health benefits. These are claimed facts, but this salt can certainly be a tasty addition to your spice collection. Himalayan salt has rich sodium content just like table salt and should be used in moderation. Khewra Salt Mine produces the maximum amount of Himalayan salt. It is Pakistan's oldest and largest salt mine located at the foothills of the Salt Range.
This salt was thought to be first discovered by Alexander the Great in 326 B.C. when his horses started licking the nearby rocks. These salt mines produce salt that is rich in mineral content. They evolved when ancient ocean waters accumulated and slowly evaporated with time from these small geographical pockets.
Apart from its sodium content, which is 98%, Himalayan salt is the rich source of eighty-four minerals that includes calcium, magnesium, and potassium and other trace elements such as iron and zinc. Himalayan salt does help in managing a lot of health conditions such as asthma, sinus conditions, and cardiovascular disease, diabetes, and sleep disorders. Cure from these diseases can be obtained by consuming the salt as part of dishes, by soaking in it in salt baths, and inhaling this via inhalers although these claims are yet to be backed by research work.
You can use Himalayan salt for beauty purpose as well! Nowadays, this amazing salt is being used in beauty products and is claimed to have very good effects on skin and hair. I will be guiding you on how to use it on your hair, skin, nails and more. Himalayan Traditionally bath preparations have included Himalayan salt for ages. For centuries, mineral baths have been a very popular activity, as they provide tremendous relief for several of the below mentioned conditions. After reading through, you will certainly want to include this in your daily beauty regime.
What are its benefits?
1. Treats eczema, acne, and psoriasis-like skin conditions
This salt has antimicrobial properties that make it an important weapon for treating acne. Mineral baths comprising of this salt can treat psoriasis and eczema. It reduces the scaling, redness, and irritation caused by these skin conditions. National Eczema Association states that conditions of extreme outbreaks can be treated consistently and the stinging feeling can be eliminated by adding this salt to bathwater.
Other benefits are as follows:
2. Detoxifies The Skin: Himalayan salt draws out all the toxins and pollutants from deep within the skin and leaves it perfectly clean and soft. This all-healing, natural, mineral-based bath will leave you feeling rejuvenated and relaxed.
3. Hydrates The Skin: Himalayan salt keeps the skin hydrated and can be used as a hydrating skin toner. It locks the water to the outer layer of your skin and maintains the moisture in it.
4. Balances The pH: Himalayan salt can prevent the breaking out of acne as it maintains the pH balance of the skin and also tones the skin.
5. Deodorizes: Himalayan salt has immense antibacterial properties and can be used as a deodorant stick. It will make your skin feel fresh.
6. Reduces dark spots: You can use Himalayan salt by mixing it with Aloe Vera gel and applying it on a clean face to reduce acne and dark spots.
7. Exfoliates The Skin: What could be better than a natural chemical-free defoliator that can be easily obtained from your kitchen? Himalayan salt can be used as a scrub for one or two weeks to make your skin feel fresh and clean.
Potential Side-Effects:
Himalayan salt brine can cause an exacerbation of dry skin. The facial scrubs prepared by using this salt may not be ideal for sensitive skin. Direct application on the face may cause negative reactions.