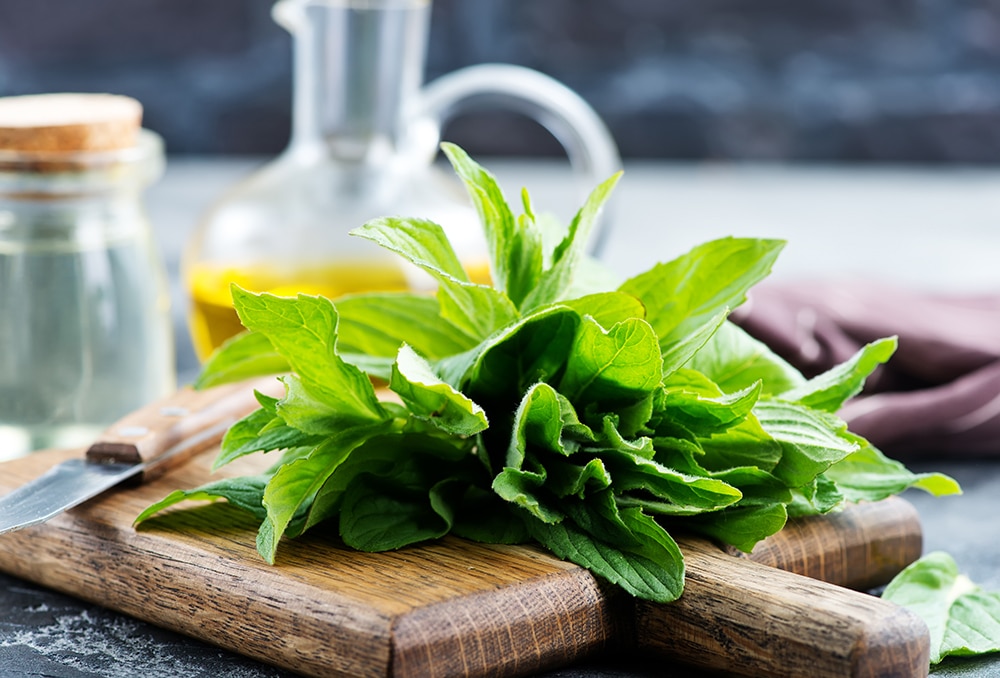 BENEFITS OF PEPPERMINT OIL FOR THE SKIN
Peppermint is famous for being an aromatic herb and can commonly be found in food, skin care products and traditional medicines. Even though peppermint may have refreshing and soothing properties, not many know about the additional benefits that peppermint oil has in revitalising and caring for one's skin. The peppermint plant is where we get the peppermint oil from. This plant is a cross between spearmint and watermint and is found across Europe and America. The oil extracted from the peppermint leaf is generally used for adding flavour to food and drink, and as a fragrance is cosmetic products. Peppermint oil has also been used for various health-related issues and can be consumed orally or by using it as an ointment on your skin. Research conducted has shown that peppermint oil might help with irritable bowel syndrome, helps with indigestion, nausea, morning sickness, heartburn, and many more. The oil can also help with reducing headaches and cracked nipples that appear due to breastfeeding.
Uses of peppermint oil
You and many others may be wondering what the real use of peppermint oil is? But only a handful know that peppermint oil can help in improving complexion by balancing out the areas on extremely oily skin. Peppermint oil is used in the making of cosmetic products, but the research conducted to prove that this oil is beneficial for your hair as well as your skin is pretty much limited. Since peppermint oil is known to have many vitamins and minerals like vitamins A, C, omega three fatty acids and calcium along with being a source of natural menthol, it is useful in waking up dull Skin while also having cooling and calming effects on it. The following are some benefits that peppermint oils have on skins :
● Controlling oil level – Extremely oily skins are known to be prone to frequent acne breakouts, which is why it is essential to keep the level of natural oils present in the skin under control. With the help of peppermint oil, this can be done as it is suitable for most types of Skin, as it can keep the natural oil levels balanced. This makes the oil extremely beneficial for skins which are oily or prone to acne breakouts.
● Brightens dull Skin: The oil extracted from peppermint has a cooling effect on the Skin. Usage of peppermint oil in your daily skin routine can help in giving you that youthful and radiant glow. Facial masks, cleansers, and toners that contain peppermint oil can help you attain a glowing and healthy-looking skin.
● Skin Inflammation: Peppermint oil can reduce skin irritation and inflammation that can be caused by some allergic reaction or acne or eczema. Sunburnt skin, dry skin and rashes on your skin can be relieved with the help of the cooling sensation of peppermint oil, which also helps to soothe and calm the skin irritation. Diluting the peppermint oil is essential in avoiding any side effects. With the right balanced amount of oil, you can reduce the irritation and inflammation of the Skin.
● Maintain a Healthy Scalp: Peppermint oil contains antimicrobial and antibacterial elements which could help in improving the condition of your scalp and gets rid of dandruff and lice as well. By massaging peppermint oil into your scalp can increase the blood circulation in your scalp, and you will end up having a healthy scalp which will, in turn, result in the growth of healthy hair.
Besides being used for health purposes, Skin or hair, peppermint oil also helps in improving your overall well beingness. It helps in clearing your respiratory system, helps in reducing stress, improves the conditions of your nail, gives relief to spasms, and so much more. Peppermint oil is safe to use, but an excess dosage or usage of the oil could be toxic. However before using the oil remember to dilute it.