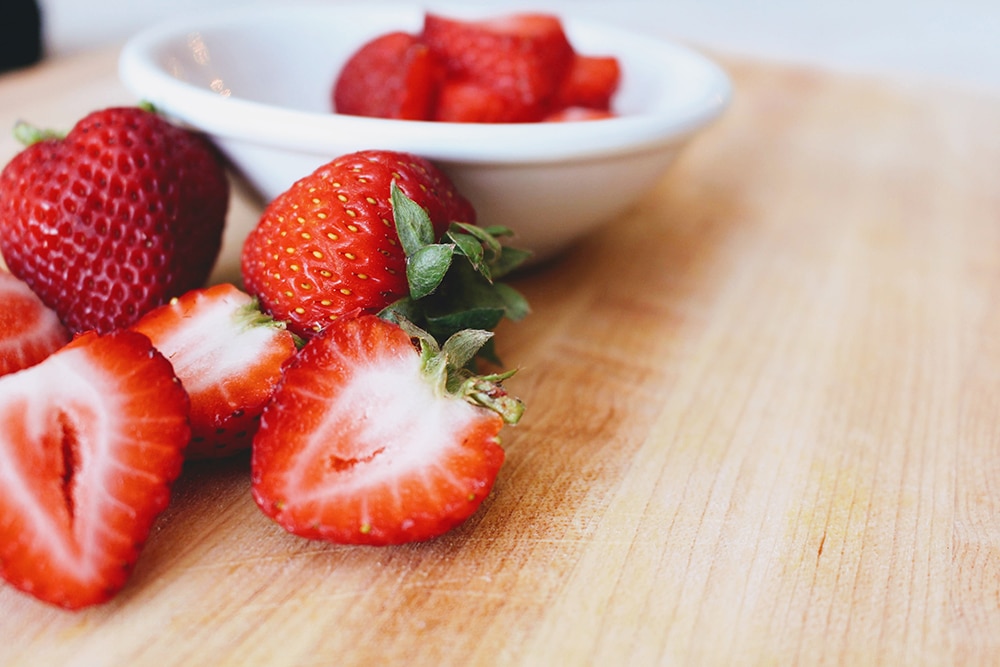 BENEFITS OF STRAWBERRIES FOR GLOWING SKIN
Where do Strawberries come from?
Strawberries, the mushy, bright, red and juicy berries available during spring are a very famous fruit all over the world. It is known that the first ever garden of strawberries was in fact grown in Brittany, France. It was in the 1750s that this fruit was introduced to France after it was brought over from Chile in 1714. Strawberry is a popular flavour in desserts and sweet dishes. Available predominantly in the United States of America, they are the largest producers of strawberries followed by Turkey and Spain.
Strawberries are citrus-based and have a high content of antioxidants and are rich in vitamin C along with decent amounts of Vitamins B9 and B12. An unknown fact about the delicious fruits is that they don't ripen further like other fruits.
What are its Benefits?
These heart-shaped fruits have more benefits than we could list down. They function more than just a flavour to your sweet tooth cravings. So, what benefits do they have on the skin?
1. Removes Acne:
Acne is not a friend of anybody. There were multiple days when we chose not to go out of the house because acne had just popped up. They are pesky pimples that take place due to excessive oil collected on our face. Strawberry face masks help in preventing acne from reappearing. They are citric fruits thus the acidic quality helps remove excess oil.
2. Provides UV protection:
Applying strawberry on your face will help provide protection from harmful UV rays of the sun. They are rich in elegiac acid which acts as a rich antioxidant. Elegiac acid helps in providing your skin protection from UV rays and prevents tanning of skin and gives a glowing look on the face.
3. Anti-Aging Properties:
Strawberries have anti-aging properties due to the elegiac acid which has anti-ageing properties. It prevents the destruction of collagen, the absence of which is the reason for wrinkles. Applying a DIY strawberry face mask once a week will help prevent new wrinkles from forming and hence make you look younger than you actually are.
4. Removes Dark Circles:
If you are tired of the puffy eyes and dark circles, strawberry benefits just like an astringent, which helps in the same. Dark circles are stubborn and won't go no matter what we apply. However, applying strawberry on them helps reduce them within a span of a month. Apply a strawberry mask on your face twice a week to see the difference.
5. Anti-Tan:
We all have come across unwanted dark spots, blemishes and acne spots. And let's admit it, they look bad. Strawberry extracts help in reducing these dark spots as strawberry has skin lightening properties. Apply the extract on the affected area and within a week the spots will get reduced and eventually go.
6. Whitens Teeth:
Strawberry has natural teeth whitening properties. Rubbing it on your teeth and rinsing will reduce the tar that might've formed. It may not remove the tar entirely but you will see visible changes in a month's time.
7. Acts as a great Defoliator:
Strawberry makes for a great scrub. It exfoliates your skin with the help of honey or sugar. Dead skin cells are stubborn and won't go easily, applying this scrub twice a week before a shower is advisable.
8. Skin Toner:
We all know that rose water is used as a toner since time unknown. Mixing rosewater with strawberries hydrates as well as acts as a great toner. It closes pores and smoothens the skin making it look flawless.
9. Removes oily skin:
Strawberries are rich in Vitamin C and a strawberry fruit mask helps in doing the same. Too much oil is the main cause of acne so controlling the oil present in your skin is very important. Strawberry benefits in nourishing and rejuvenating your skin in the process.
Potential Side effects:
Strawberries are beneficial while being tasty at the same time. However, applying too much of strawberry face mask or scrub will add to the skin problems instead of correcting them. If there are bruises or open wounds it is advisable not to apply strawberry extracts on them as it will worsen the condition.