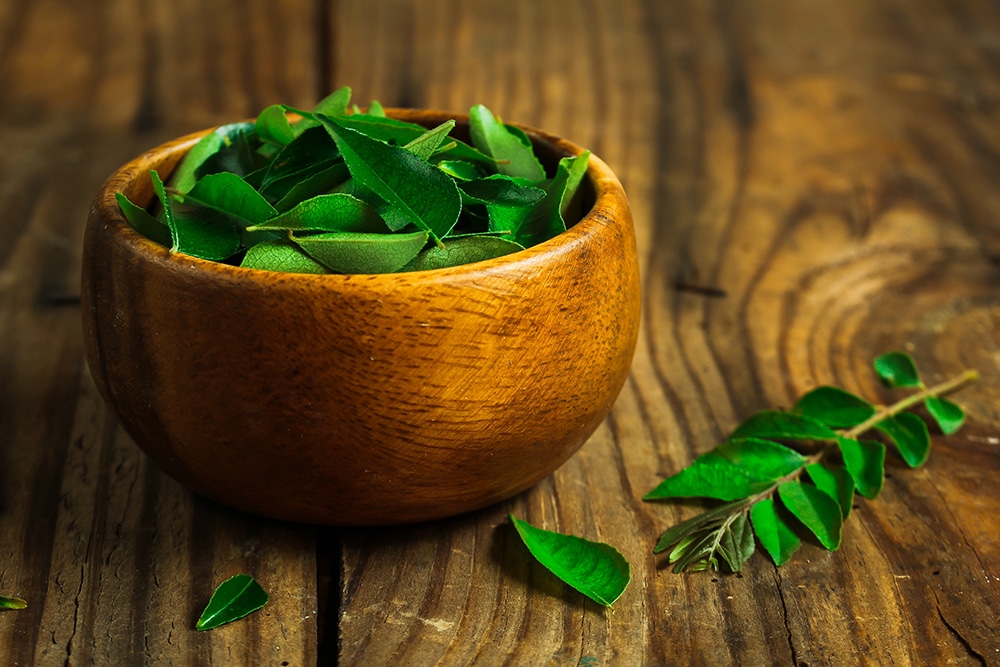 BENEFITS OF USING CURRY LEAF OIL
Many Indian dishes use curry leaves mainly because it has an aromatic flavour and adds taste to our meals. Curry Leaf Oil has many benefits such as it strengthens the hair stops hair falls and improves the strength of the follicle. There are other benefits of Curry Oil as well, such as it improves the digestive system while keeping your cholesterol under control. You can buy curry leaf oil online, or you can learn to make your own Curry leaf Oil.
Also known as sweet neem, curry leaves are rich in antioxidants. Curry leaves are an excellent source of protein, amino acids as well as beta-carotene. These properties help prevent hair loss and thinning while simultaneously strengthening your hair follicles.
The main benefit of curry leaf oil is hair growth and prevention of hair loss. Let us discuss in detail Curry leaf oil uses.
Here are 9 Essential Oils for hair growth that you can check.
Curry Leaf Oil Uses
There are antioxidants present in curry leaves that help in moisturizing your scalp and get rid of dead follicles. The benefits of hair go beyond just antioxidants as curry leaf oil is also rich in beta-carotene and protein content. Beta-carotene prevents hair loss and thinning of your hair along with amino acids with strengthening your hair follicle and hair fibre. The following are curry leaf oil uses that help solve numerous health and beauty concerns. You can use curry leaves as a mask, tonic or better so as hair oil.
Uses of Curry Leaf Oil include:
● Fast Hair Growth: Hair growth is a real struggle that we face from to time and curry leaf oil helps boost your hair growth by retaining the health of your scalp and opening up clogged hair follicles. Curry leaves also have Vitamin B which strengthen the roots of your hair. Roots of the hair need to be strong and healthy to avoid hair problems.
● Prevents hair thinning: If the quality of your hair is terrible, it is evident that your hair will be thinning and eventually fall. Curry Leaf oil has a lot of protein and is beneficial for your hair. Using curry leaf oil on your hair will reduce hair thinning due to the protein and the beta-carotene.
● Strengthens your hair: The benefits of Curry leaf Oil go beyond just hair thinning and hair growth as it is also used to strengthen hair. The protein present in curry leaf helps strengthen the roots of your hair, which in turn promote hair and eyelash growth.
● Can Prevent premature Greying: Premature hair greying is an issue when you have gray hair appear much before they are supposed to such as in your 20s or your 30s. It is a growing issue faced by youngsters these days. With the help of curry leaf, you can prevent premature hair growth as it replenishes your scalp and maintains your natural hair colour.
● Repairs hair damage: Hair damage mainly takes place due to the harmful pollutants present in the environment that takes a toll on the quality of your hair. You can take the help of curry leaves to repair the damage in your hair caused by the pollutants in the air. Curry leaf helps fight these chemicals naturally with its antioxidants.
● Clears dandruff: Dandruff is a real problem; it is stubborn and won't go away easily. The antifungal and antibacterial properties present in curry leaves help remove dandruff and prevent it from appearing again. When you apply curry leaf on your scalp twice a week, it helps fight dandruff.