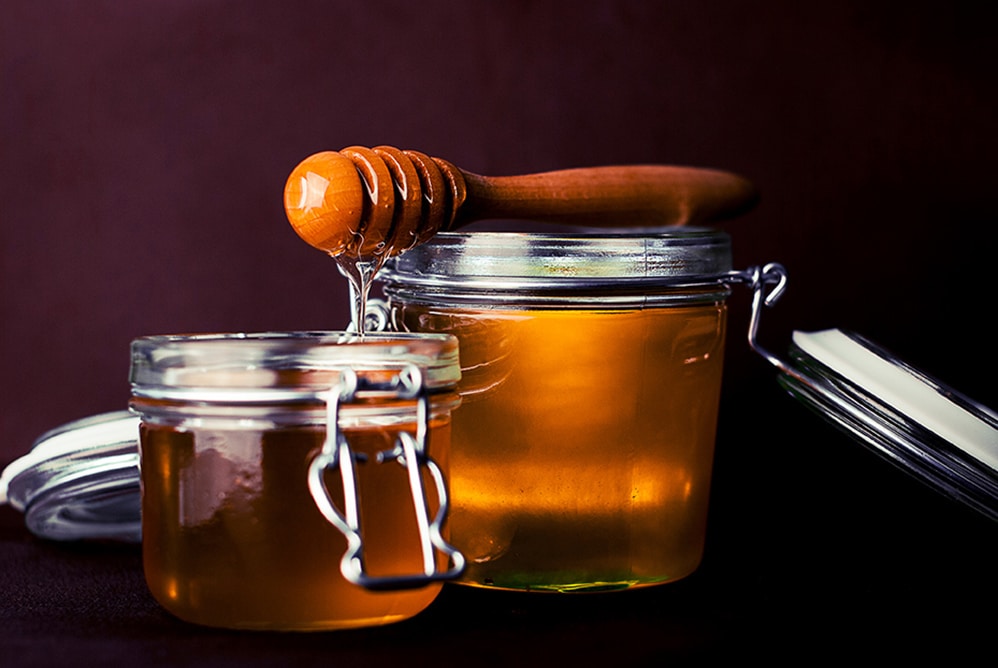 BENEFITS OF USING HONEY FOR HEALTHY SKIN
Where does Honey come from?
Honey is undoubtedly one of the most common ingredients found in almost every kitchen in every household. It is not just a golden syrup consumed as a food substance. It is more of a miracle syrup as it has so many purposes apart from just edible consumption. The best thing about honey is its universal availability. In fact, it does not even leave a heavy dent in your pocket.
Honey is extracted from beehives. But what exactly is honey? It is actually a thick golden liquid produced by bees that extract the nectar of flowering plants and is stored in the beehive for consumption when scarcity of food comes knocking at the door during winter months. The honeycomb's design and the constant fanning of the wings causes the viscous liquid of the honey to evaporate, creating the thick honey that we have. As busy as a bee indeed! This liquid is then extracted from the hives, processed further and put into bottles.
The availability of sugar was not in abundance until the sixteenth century. Honey acted as a universal principle sweetener in most of the places until then. Did you know? Ancient Greece and Sicily are two renowned historical centers of honey production.
What are it's Benefits?
Honey is a common ingredient in most of the beauty packs, be it for your skin or your hair. Ever wondered why? Honey is not known as Queen Bee of the Beauty World without a reason. Let's take a look through the common benefits of honey to know why. Include this miracle ingredient in your daily skincare regime and feel the difference.
1. As a moisturizing agent: Raw honey has innumerable benefits. It acts as a wonderful moisturizing agent and leaves your skin soft, supple and radiant. The sugars found in honey act as water retention and healing agents that help to increase the water content, leaving the skin hydrated. This makes it an incredible natural moisturizer for the skin.
2. As a natural anti-septic:
We've all had to face injury marks at some point in our life. And we're all familiar with the anxiety that the scars inflict on us as we wait for them to disappear. Honey may help speed up the process, as the anti-oxidants found in honey help repair damaged skin. This in turn allows the scars to lighten and ultimately disappear over time.
3. As an anti-ageing compound:
Who said you have to spend a fortune just to look young? Applying a honey mask at regular intervals can help you fight time with grace and dignity. The anti-oxidants found in honey help maintain the elasticity of the skin by keeping wrinkles, frown lines and fine lines on the face under control.
4. For treating sunburn:
One of the best home remedies for treating burns involves the use of honey. Honey provides nutrition to tissues that have been damaged and helps in the promotion of healing. This makes it a great remedy for treating sunburns.
5. For acne treatment:
Stepping out in the dust is a task, especially when you notice breakouts on the skin. Acne and pimples are a common part of our everyday skin problems. Honey may play a major role in taking care of these problems. Honey has anti-bacterial properties that prevent breakouts on the skin. It also does not strip the skin of its natural oils either. It is therefore used in acne treatment.
Potential Side Effects:
Overexploiting the use of a substance is bound to have some side effects. If you use too much of honey, you might attract a lot of ants. Jokes apart, honey is a miracle liquid that does not have too many side effects. But honey can be a cause of allergy in some people. This is a factor that must be kept in mind if you happen to be one of those people. Also, excess consumption of honey is harmful for diabetic patients.