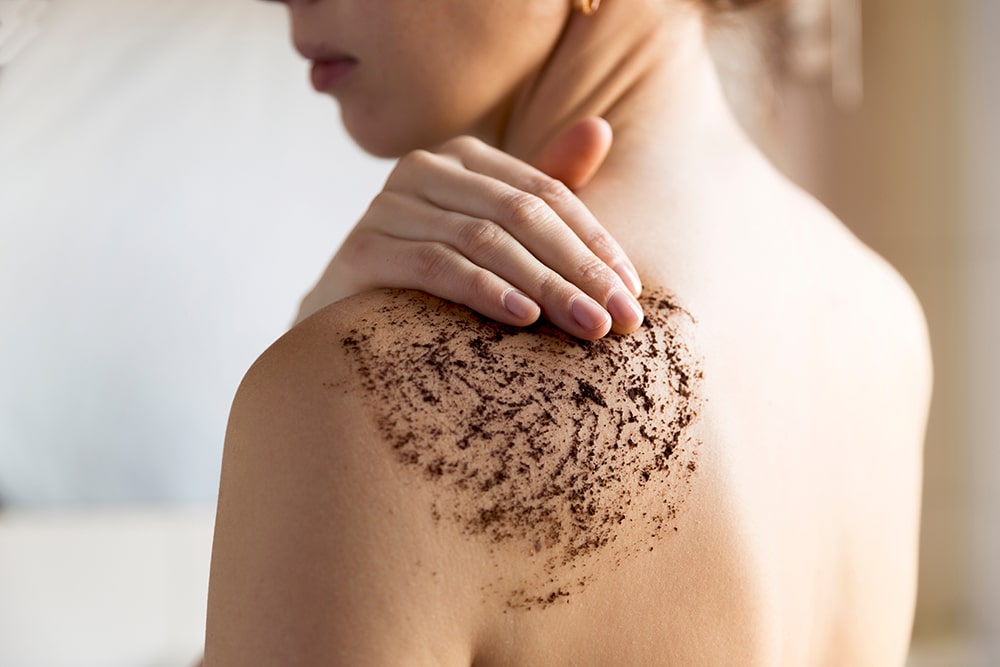 BEST BODY SCRUB THAT REMOVES DEAD SKIN
Simply put, a body scrub is a combination of one or more exfoliating substances that are abrasive enough on your skin to remove the outer layer of dead skin and promote blood circulation. The scrub should not be too strong or hard to damage your skin. At the same time, it should be hard enough to scrape off the dead skin when rubbed all over. Apart from removing dead skin, the scrub also helps in natural moisturizing, self-tanning, and smoothing the skin. The best body scrub that removes dead skin helps exfoliate the skin and also hydrates and revitalises the skin.
What makes a good body scrub?
A body scrub contains a primary substance, the coarse ingredient with mild abrasive character. It is usually a type of salt, floral ingredient (from plants like nutshell), sugar, or others. The second major component in a scrub is the softening agent, which is usually oil (vegetable, mineral, or others). The last component is the signature element that each spa therapist adds to the scrub to give a unique feel like aloe, honey, oatmeal, lavender extract and others.
Which scrub would suit your skin?
There are numerous scrubs in the market and you ought to choose the one suitable for your skin.
Sugar-based scrubs
These are the scrubs whose primary ingredient is sugar. It need not be cane sugar always. The primary purpose of sugar is to provide that granulated abrasive effect. Usually, glycerin or oil-based component is added with the sugar to make it into a paste. Sugar scrubs are best for those who have sensitive skin and need a very less-abrasive form of scrubs.
Salt-based scrubs
This is quite common, and you can find numerous brands of salt-based scrubs in the market. Salt-based scrubs come in different variants of abrasiveness based on individual needs. For instance, mild chemical salts can be used for stronger scrub and any of the sea salts for gentler scrubs. Each salt comes with a different property like moisturizing, rejuvenating, and so on. The secondary component to such scrubs is almond oil or sesame oil. Some even add essential oils to give a sweet aroma to elevate your mood. If you have oily skin, this is the best scrub to choose.
Herbal scrubs
Some skins are susceptible to salt or sugar-based scrubs due to the use of oils, chemicals, and other harsh elements. If you have sensitive skin, herbal scrubs are a right choice. Coarse orange peel, floral powder and other herbs can be used as the primary element. It is usually mixed with diluted essential oil or coconut oil.
Moisturizing scrubs
The main item of the scrub could be salt or sugar or herbal ingredient. The secondary component is any natural or chemical moisturizers like almonds, oatmeal, aloe, yoghurt, or others. This style of the scrub is best for anyone with dry skin.
Apart from these, some choose to use home ingredients to make a natural scrub. Remember that it is not advisable to scrub your skin, very frequently, even if you are using all-natural ingredients. Every scrub comes with an abrasive component or chemical substance, which scales your outer layer to remove dead skin. Frequent usage can lead to skin damage, making your skin lose its natural elasticity and glow.
Moreover, if you are choosing to buy scrubs or visit a spa, check for the quality of the service and the product. Not everything that your spa therapist recommends is good for your skin. Learn about every ingredient in the scrub and its effect on your skin. If you have any skin-based medical condition, talk to a dermatologist before you choose any scrub or spa treatment. Even some of the natural products can aggravate any medical condition that you already have.