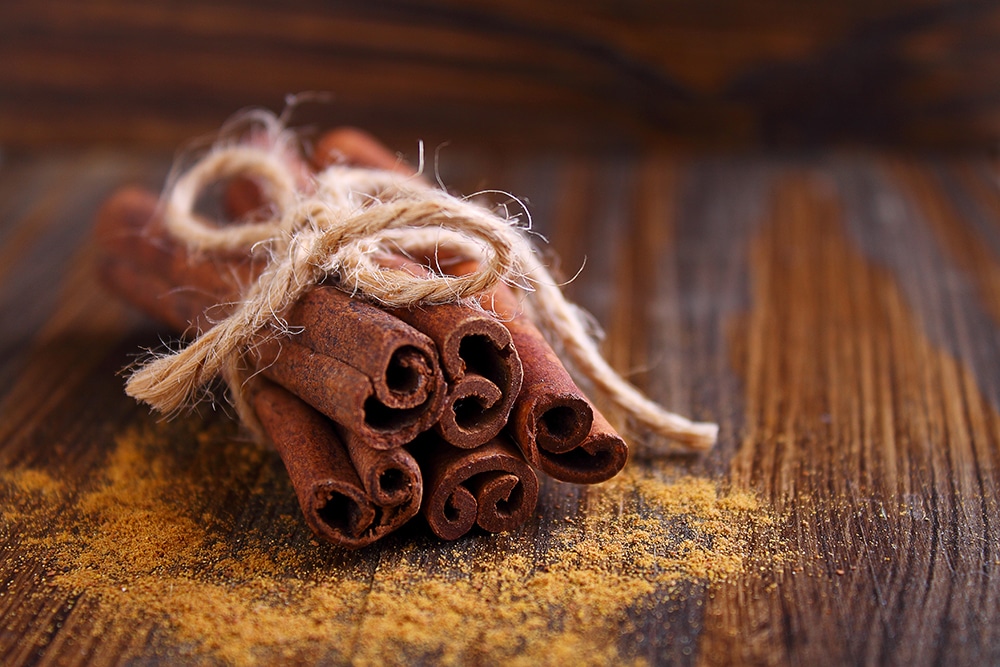 Cinnamon powder is used for cooking many dishes, both sweet and salty. You must've eaten cinnamon buns, with sprinkled cinnamon powder on top. Cinnamon sticks are used in many dishes to add to the flavour of the dish. When the cinnamon sticks are ground to a powdery form, we get cinnamon powder. Other than being a fragrant spice for cooking, cinnamon also has medicinal properties and was traditionally used to treat sores. Did you know there are many benefits of using Cinnamon powder? They are as follows.
Helps heal pimples:
If your skin is prone to acne due to which you get breakouts, it is advisable that you use cinnamon powder. Cinnamon powder benefits include it has antifungal, antioxidant and antibacterial properties which fight the acne forming bacteria and pimples on the skin. Acne takes place when there is excess oil formed in a particular area of your skin. Cinnamon helps to remove excess oil from your skin. You can try this pack to get rid of excess acne on your skin.
How to use: Mix honey and cinnamon powder in a 3:1 ratio and apply it on your face as a face mask. Keep it for 20 minutes, then wash it off. Do this once a week to get the best results.
Retain and adds moisture to your skin
Cinnamon powder for skin works wonders, especially when it comes to adding moisture. The bark is crushed to form cinnamon powder. Cinnamon powder is coarse in texture. It helps add moisture to your skin and prevents it from drying out. Cinnamon powder helps the flow of blood to the surface of the skin, which in turn keeps the skin moist. You can try this mixture to improve the moisture level in your skin. Add cinnamon essential oil along with olive oil or petroleum jelly. Make sure you prevent it from getting in your eyes so that you do not experience a burning sensation. If it gets in your eyes, rinse it with cold water thoroughly.
Brightens your skin:
You can learn how to make cinnamon powder if you do not want to purchase from the market.
What you need:
● Cinnamon Sticks
● Blender/Mixer Grinder
Roast the cinnamon sticks in a pan for 5 minutes, thereafter, take it off the heat and keep it aside to cool. Once the sticks have cooled down, put them in a blender and blend them to a powdery consistency. The end result is a coarse powder that is brown in colour.
Due to its antifungal and antibacterial properties, cinnamon works wonders when it comes to skin brightening. It helps to improve dull skin. You can try applying this pack once a week to see results. Mix banana, ground cinnamon, yoghurt and lemon juice into a paste and keep it for 15 minutes.
Helps treat eczema:
Eczema is a serious skin condition when an area of your skin becomes red and patchy along with cracks. Applying a paste of cinnamon powder along with water in the affected area will help in treating eczema. However, if your condition is serious, it is advisable that you visit a doctor.
Improves dry skin:
If you have relatively dry skin, you can try applying a scrub of cinnamon powder mixed with salt, olive oil, almond oil, and honey. This mixture will help exfoliate dry skin cells and add moisture to your skin naturally. Cinnamon powder benefits in skin therapy and has natural moisture-retaining properties.
The benefits of cinnamon powder are innumerable. You can have it in your food, or you can apply it to your skin, either way, it is magical!