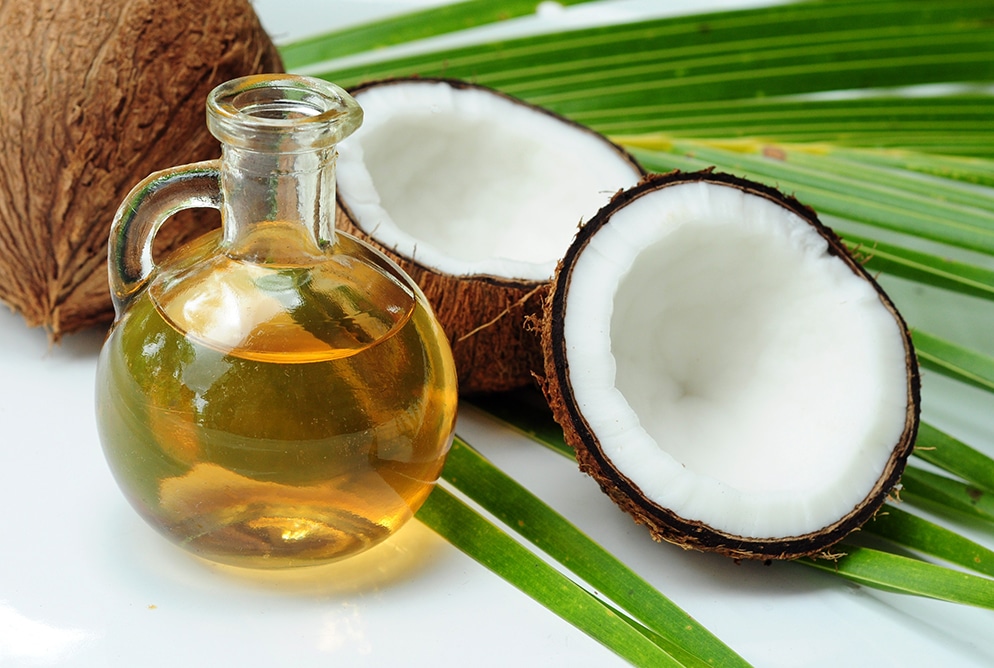 COCONUT OIL FOR SKIN AND HAIR CARE
Where does Coconut Oil come from?
Coconut oil comes from raw coconuts or a coconut's dried kernels. It is considered a superfood because of its positive effects on your overall health. It has a lot of skin and hair benefits, and it can even help with your dental health. When it is at room temperature, it is considered a solid, but heated up it will soften and can even melt. It is rich in saturated and medium-chain fats.
What are its benefits?
1. Can kill microorganisms.
Coconut oil has medium-chain fats that have antimicrobial properties. This can help protect your body against harmful microorganisms. If you apply the coconut oil directly to your skin, you can gain this benefit. It will also prevent the microorganisms from growing on your skin in the first place.
This is because coconut oil contains lauric acid, which can be used to fight harmful microorganisms. Lauric acid almost takes up 50% of the fatty acids in coconut oil. It can also reduce the chance of getting inflammatory acne.
2. Can reduce the chance of fungal infections.
The capric acid, which is found in small amounts in coconut oil, can also help kill microorganisms and prevent fungal infections. It is a fungi growth inhibitor, which means you are less likely to have issues with fungal growth.
3. Can help with psoriasis, eczema, and contact dermatitis.
Coconut oil shows anti-inflammatory properties, so certain skin conditions, such as psoriasis, eczema, and contact dermatitis, can have reduced inflammation when applied to the problem areas. Not only will it help with inflammation, but it can also treat the pain from the inflammation.
4. Can produce helpful antioxidants.
Coconut oil produces antioxidants that help with inflammation. It can prevent oxidative stress by improving the antioxidants in your skin. Antioxidants have been shown to stabilize free radicals, which can neutralize the atoms that cause the inflammation.
5. Coconut oil can prevent acne.
Most people believe that coconut oil will clog your pores, however, this is not true. Since acne is considered an inflammatory condition, using coconut oil may reduce the spread of acne. The lauric acid contained in coconut oil has been shown to kill off the bacteria that are related to acne.
Also, the antibacterial properties of the oil may help reduce acne as well. The capric acid found in coconut oil has also shown to provide anti-inflammatory and antibacterial protection on your skin.
6. Use as a moisturizer.
Coconut oil can also be used as a moisturizer. It can help keep your skin fresh and hydrated. If you suffer from dry skin, it can also regenerate and heal your skin, making it feel smoother and softer.
It can help with eczema, which is itchy, scaly rashes around your body, by reducing dry skin and decreasing the severity of eczema breakouts.
7. May help with healing wounds and scars.
Coconut oil can also help treat wounds and speed up the healing of damaged skin. Because of its antioxidant properties, coconut oil can increase the levels of collagen in your skin, which promotes wound healing.
Combined with an antibiotic, coconut oil can speed up the healing of burn wounds. It may also prevent infections because of its ability to heal the wounds.
8. May help with sunburns, bad breath, and improve hair health.
Coconut oil can act as a weak sunscreen, which will block out 20% of the sun's harmful UV rays. You can also use it as a mouthwash, to kill the harmful bacteria in your mouth. This will help prevent bad breath and can improve your dental health. It also benefits your hair, by protecting it against damage.
Potential Side Effects
Coconut oil may block pores and cause blackheads on people with oily or sensitive skin. If you have sensitive skin, it may also cause irritation. Use care when trying coconut oil for the first time, test a small area of your skin for a reaction first.