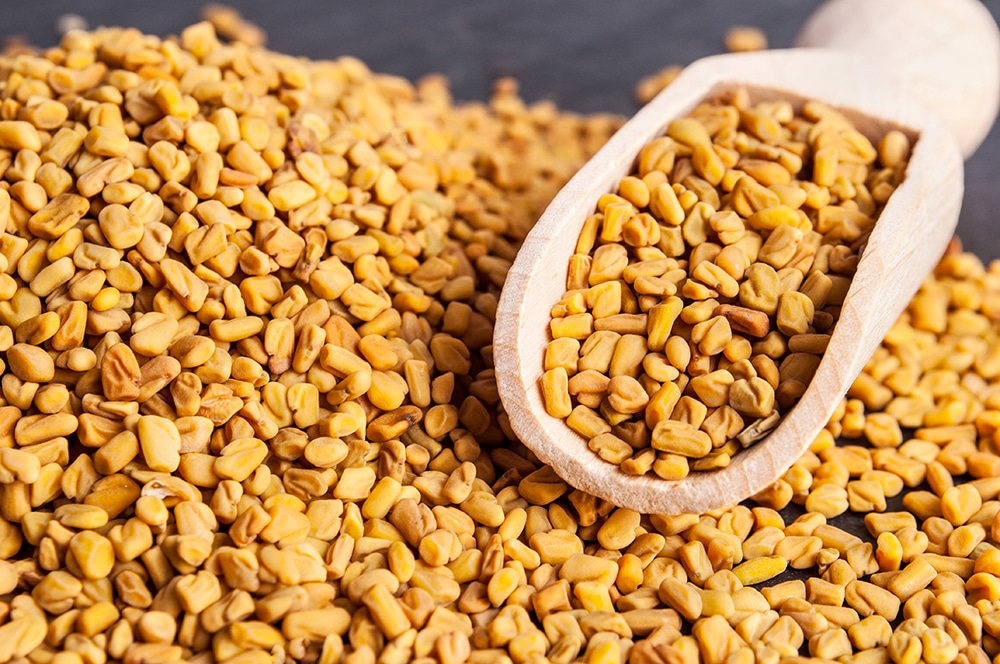 FENUGREEK POWDER BENEFITS
Fenugreek is native to South-East Asian countries and the Mediterranean region. Its leaves can be consumed fresh or dried. It has many medicinal properties and is useful for treating many skin and hair problems. Fenugreek is used for cooking many dishes as well. Fenugreek has a sweet and fragrant maple-like smell.
The health, skin and hair benefits of Fenugreek powder are as follows:
1. Helps in regulating cardiovascular health. It is beneficial as it contains galactomannan, a group of natural polysaccharides (soluble fibre) this prevents heart attacks. We must take care of our heart conditions, especially by regulating our diet to a more healthy one. Exercising also helps in keeping a check on cardiovascular health.
2. Fenugreek powder is used to regulate blood sugar and blood pressure. Blood sugar and Blood pressure are two serious diseases that have no permanent cure and need to be kept in a balance. Fenugreek is rich in potassium and has low sodium which helps to regulate your blood pressure and keep it in control.
3. Fenugreek powder can be used to treat constipation. Adding fenugreek powder to your daily diet will help reduce chronic constipation by helping you digest your food and make your bowel movement easier. Chronic constipation can be very uncomfortable and is undoubtedly harmful to your body. You can add fenugreek to your diet and regulate proper bowel movements.
4. If you are anaemic, you can add the fenugreek powder to your daily intake of food as it increases haemoglobin in our Red Blood Corpuscles (RBC) and helps to treat anaemia. Lethargy is one of the symptoms of anaemia, and having fenugreek powder in your regular diet can help fight it.
5. There are many fenugreek powder benefits for your skin as well. It helps to reduce inflammation as it has antibacterial properties. It is also used to treat burns, eczema and wounds. Fenugreek powder in a paste with water will help get rid of any inflammation and redness on your skin. It soothes the skin and gets rid of any irritation causing rashes.
6. Fenugreek powder also has anti-ageing properties which help to remove fine lines and wrinkles, which make one look older than usual. Use fenugreek powder paste with fullers earth to delay skin ageing.
7. If you have oily skin, you can use fenugreek powder to reduce oil by applying a face mask of fenugreek powder. It keeps the oil in your face in balance. Having excessive oil on your skin leads to acne and eventually pimples. A pimple breakout is the last thing we want. Fenugreek powder helps to keep the pH level neutral in your skin and keep the oil levels in a balance without ripping your skin off of its essential oils. Fenugreek powder is also used to treat dark circles.
8. Applying fenugreek powder with lemon juice and coconut oil will help remove dandruff from your hair if your dandruff refuses to go. Dandruff is flaky skin on the scalp that takes place due to dirt formation and dry scalp. It is a serious condition that affects many people. You can use fenugreek to treat it.
9. Fenugreek helps to reduce hair fall and promotes more hair growth. Hair fall mostly takes place if you have oil or dirt accumulating in your hair follicles. This also reversely creates dandruff and eventually leads to hair fall. Fenugreek powder has anti-hair fall properties that help in keeping hair fall under control.
10. Fenugreek powder has proven to be very beneficial during breastfeeding. According to a study, fenugreek powder helps to increase the production of breast milk in women who are lactating.
These benefits make Fenugreek powder the perfect organic solution for solving all problems related to health and well being.