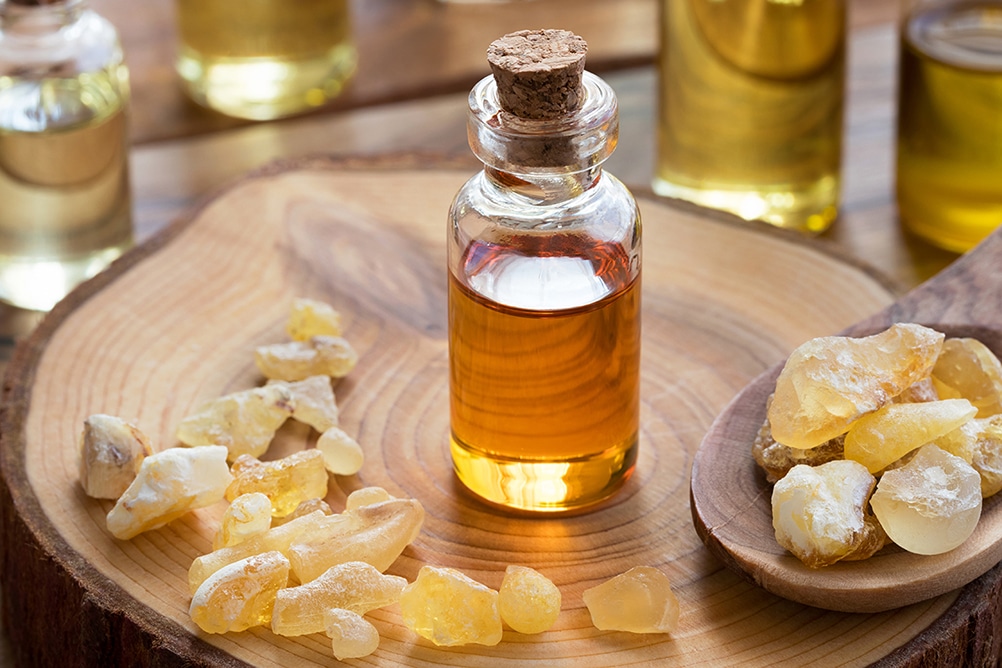 FRANKINCENSE OIL, THE KING OF ESSENTIAL OILS
Where does Frankincense Oil Come from?
Frankincense oil has been extensively and popularly used since ancient times and it has been mentioned in the Bible as one of the gifts offered by the three wise men to the baby Jesus. It's extracted from the resin of the Boswellia carteri, ferreana, and serrata trees which are usually found in the regions of Pakistan and Somalia in Africa. The word frankincense comes from the Old French "franc encens" which means high-quality incense and some of the oil's chemical compounds include the alpha-boswellic acid, incensole acetate, and phellandrene.
It has many wonderful health benefits and uses which makes it a high-value essential oil and quite expensive because boswellia is hard to propagate and countries, where it's most abundant, are experiencing political unrest. Let's check out the many benefits and uses of this precious oil which has been touted to be as precious as gold and even called the king of essential oils.
What are its benefits?
Here are some of the great benefits of the oil for your skin:
1. It helps delay the aging process.
Frankincense oil acts as a powerful astringent which aids in renewing skin cells and fighting off wrinkles. Just apply a few drops of it along with an ounce of unscented oil directly to your skin for best results.
2. It heals wounds and reduces the appearance of acne and scars.
This oil is effective in healing wounds and decreasing the appearance of acne spots and scars. Simply mix a few drops with a base oil and apply to the affected skin.
3. It repairs dry skin and balances oily and dry skin.
This natural healing oil helps to balance oily or dry skin and effectively repairs dry and chapped skin to bring back your natural glow.
4. It soothes eczema and relieves itches and rashes.
Applying a few drops of this wonder oil helps to soothe eczema and gives you relief from rashes and itches.
The other uses and benefits of frankincense oil
These are the other benefits and uses of frankincense oil:
5. It may help fight certain cancers and eases chemotherapy side effects.
Some studies have found that chemical compounds of frankincense oil kill cancer cells that are resistant to chemotherapy. It also has anti-tumor effects.
6. It helps prevent illnesses and boosts the immune system.
A lab study done by researchers in Egypt revealed that the oil has strong immune-stimulant activity and helps fight off viruses and bacteria. Its antiseptic and antimicrobial properties help promote oral health and prevent gingivitis, mouth sores and other oral problems.
7. It reduces negative emotions, relieves stress and even said to promote spiritual awareness.
If used in aromatherapy massage and when inhaled, frankincense oil helps relieve stress and can reduce depression. It's also said to promote spiritual awareness because of the calming effect and yoga instructors as well as some churches are said to use it.
8. It may help improve memory and balance hormones.
Studies have shown that this essential oil boosts the memory as well as one's learning functions. It also helps balance the hormones and regulate estrogen production in women.
9. It helps ease digestion and decreases inflammation.
Frankincense oil helps promote good digestion and proper bowel movement. It's also known to reduce symptoms of Crohn's disease and chronic colitis. Further, it also prevents inflammation that may lead to arthritis.
Potential Side effects
While frankincense oil is considered generally safe for everyone because of its low toxicity still it has its share of side effects. The common ones include acid reflux and nausea. It can also interact with some types of medicine like blood thinners and anti-inflammatory drugs. Pregnant women are advised not to use it as it may lead to an increased risk of miscarriage.
Frankincense oil is a precious and sought-after essential oil which is highly favored for its various health benefits and uses. It is unmatched for its antimicrobial, antiseptic and anti-inflammatory qualities and its calming and stress-relieving effect is very potent. It has a high price tag especially because it's gaining popularity as a probable cancer treatment. However, it's best to practice caution before using it by taking a skin patch test check for allergic reactions.