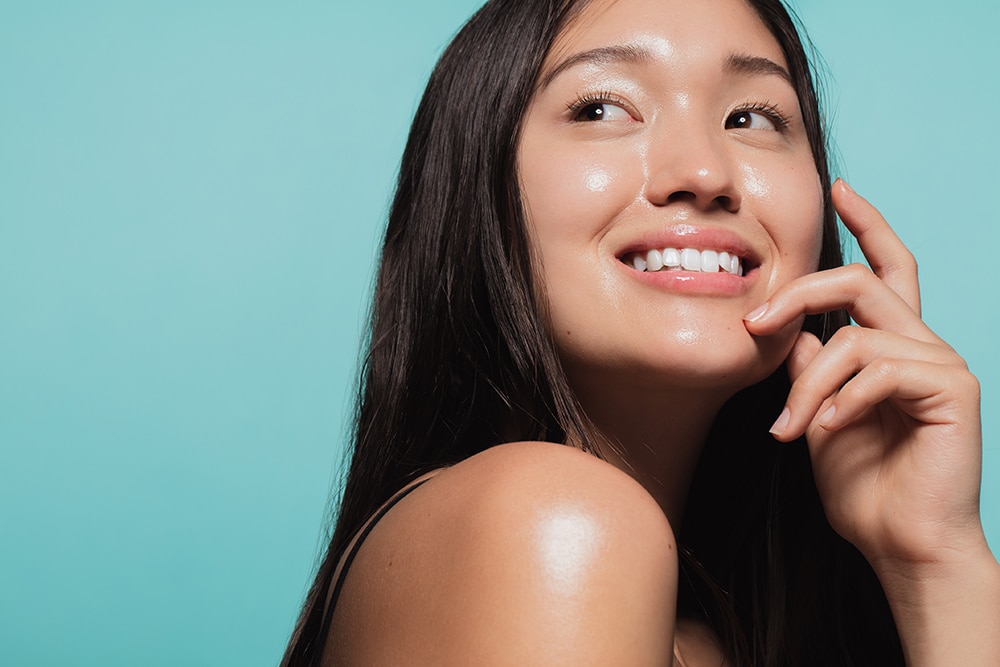 HOW CAN I GET CLEAR SKIN NATURALLY?
Clear, glowing skin is not just a thing of cosmetic beauty, but also an indicator of good health. The mirror image of a radiant face in the morning does wonders to increase your values of self-worth and confidence. We often search for glowing skin secrets; get a lot of advice and tips about proper skincare from our neighbours, relatives, or the social media influencers whom we may follow. However, not all individuals have the same skin type or structure and thus choosing a skincare regimen tailor made for you is crucial. The following are a few steps and procedures for regular care on a general basis:
REGULARLY WASH YOUR FACE
Wash your face at least twice a day with clean water. The polluted environment of modern times results in the rapid accumulation of dust particles and toxins on the skin, especially if you happen to be working outdoors or are used to a hectic travelling schedule. This is very helpful, especially for people with oily skin or issues with acne. It is also advised to wash your face or at least wipe the face with a cleansing cloth just before going to bed. Take your time. A proper face wash should take about 10 minutes.
APPLY CLEANSERS THAT ARE MILD ON THE SKIN
There is a huge variety of cleansers or cleansing lotions available in the market. The costlier is not always, the better. Skincare experts recommend using a mild cleanser. It has been seen in case studies that there is not much of a difference in skin conditions based on applications of fancy expensive cleansers, loaded with lots of ingredients, and that of a generic mild cleansing solution/lotion.
A natural product that works as a great cleanser is Olive Oil. Apply a few drops regularly at night, massage in circular motions and wash it off using a clean cloth and lukewarm water.
TRY OIL-ABSORBING MOISTURIZERS, IF YOU HAVE OILY SKIN
Oily skin generally occurs when our bodies produce excessive oil for dealing with extremely dry skin. Moisturizers heal the skin by providing the much-needed moisture at the skin surface level. For people with oily skin, there are Light Weight moisturizers that do not leave the skin feeling greasy. Many people find it necessary to switch to Heavy Weight Moisturizers during the season of winter- when the skin becomes excessively dry.
Aloe Vera is widely popular in the skincare world for its remarkable antiseptic and moisturizing properties. Remove the green outer covering of the leaves and cut the gel into cubes. Apply accordingly.
KEEP YOURSELF HYDRATED AT ALL TIMES
Most people neglect the fact that drinking necessary amounts of water regularly is essential for a large number of health benefits. Problems like acne, breakouts and other skin complications often result from deprivation of the necessary amount of water in the body. There are also some homemade remedies for glowing skin, some of which are:
 Detox Water (Made with Water, Cucumber, Mint Leaves, and Lemon)
 Green Tea
 Green Juice (Make a smoothie using Cucumber, kale, green apple, celery stalks, lemon and a handful of cilantro leaves)
GET A MINIMUM OF SEVEN TO EIGHT HOURS OF SLEEP
Lack of sleep has been directly linked to increased acne, according to various reports. While heavy bags and dark circles are generally associated with a little amount of sleep, case studies have shown that more than 65% of people who had sleep deprivation report acne and breakouts. Experts suggest a daily sleep of 7 to 8 hours of sleep is essential for staying healthy, both internally and externally.
RESEARCH WHAT YOU EAT: HAVE A CONTROLLED DIET
Recent studies have shown a connection between acne and the glycemic levels(or in layman terms: sugar levels). Controlling the amount of sugar intake is helpful not only for weight loss and achieving the long-desired fit body but also reduced levels of acne and the dependence on acne medication. Make sure you :
Limit Processed Carbohydrates(white bread, baked goods)
Reduce your craving for sweets and soda.
 Avoid Alcohol.
Eat fruits, vegetables, whole cereals and other healthy sources of protein.
BE BETTER: BE NATURAL
Artificial products often have serious implications and side effects on the skin. They often cost a fortune and though "Health is Wealth"- it makes no sense to spend large parts of your hard-earned money into skincare products. The present world is known for unethical advertising and creating an era of cosmetic consumerism- which is harmful to the environment as well. It is better to do a little research and obtain solutions which have been present to us since ancient times. The best plus point- they can also be easily made within the four walls of the room.
Here are a few more examples of natural products for glowing skin:
i)Turmeric
ii) Potato
iii) Rosewater
iv) Tomato
v) Oatmeal
vi) Honey.