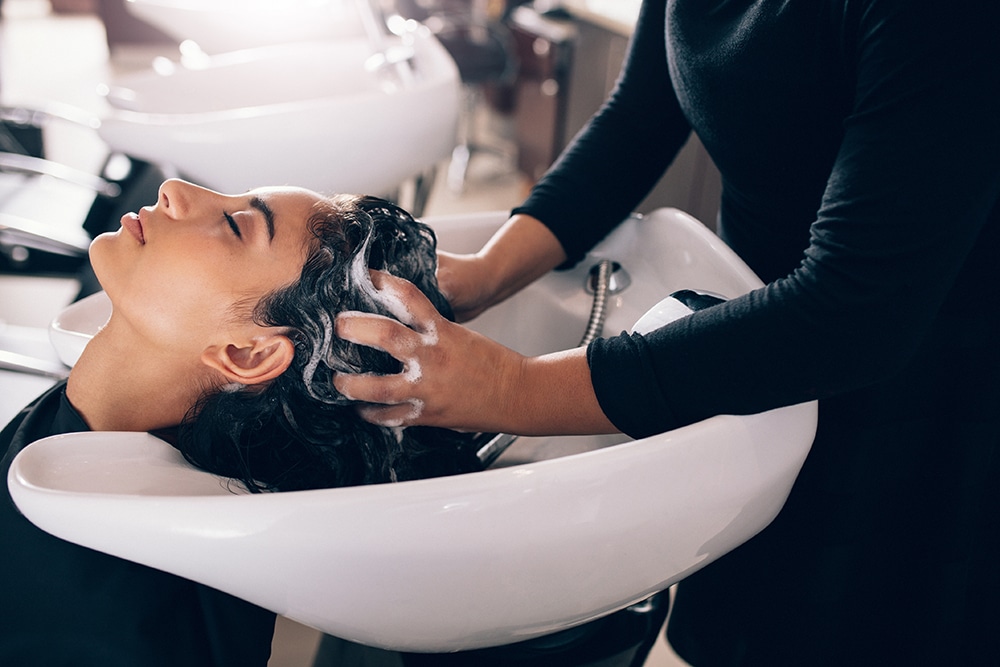 Ever wondered how to grow hair faster? Or how some women manage to keep those long luscious locks of hair? Long hair has been an object of fascination and beauty for a long time. Remember the fable of Rapunzel and the Witch? While some people have the innate gift of rapid hair regeneration, the rate of hair growth actually varies from person to person. There are specific tips and suggestions that, if followed, can lead to a person having healthy and long hair. It is all a matter of proper care and nurturing. Leading hair care experts may differ on a variety of topics but on a general note, they all agree on the following steps and guidelines to bring the best from your hair:
1. Stop Shampooing Daily
Shampoos are good for cleansing the dirt accumulated on the hair and scalp. However, they also rob the hair of moisture and nourishment that is needed for healthy growth. Daily shampooing your hair leads to extreme dryness and brittle hair, along with split ends. Once a week is more than enough.
2. Brush your hair before going off to bed
The natural moisture and nourishment present between the hair strands and the scalp needs to be distributed evenly. It is thus suggested to brush your hair at night, preferably with a boar bristle brush., Other than cleaning and even distribution of the nourishment, brushing also improves blood circulation in the scalp leading to accelerated hair growth.
3. Try to avoid hair colours and dyes
No matter how cool or chic it may look, hair colours and dyes tend to damage your hair. This is especially evident when a person dyes the hair from a darker natural colour to something blonde or white. The bleach present in the dyes damage the hair cuticles- leading to breakage and split ends.
4. Maintain a "hair-growth friendly" diet
If we break it down scientifically, keratin- the basic block of hair- is primarily protein. The hair follicles at the scalp require folic acid, iron along with some different vitamins and minerals. So if we maintain a proper diet consisting of all the necessary nutrients for proper hair growth, we will be boosting the hair growth internally. Eggs are a rich source of Vitamins A, C, and E. Minerals like iron and zinc can be found in cereals or meat.
5. Regular Care
Adjusting some of our daily habits may be greatly helpful in increasing the overall 'health' of your hair. For starters, using hot steam showers is as damaging for the skin as it is for the hair. Experts recommend using cold water during rinsing as cold water enables the closing of the hair cuticles- leading to stronger hair. One should also keep in mind that wet hair is prone to damage and split ends. It is always advised to avoid brushing when the hair is wet. However, if it is a must, it is wiser to use wide-toothed combs or detangling brushes.
6. Use Food Supplements
There are various food supplements available in the market nowadays. If you feel that your nutritional requirements aren't met from your diet- food supplements can do a whole lot of good. There are even multivitamins labelled "For Skin, Nails, and Hair". The additional benefits of these supplements, especially in the case of Vitamin B7 Biotin- has a surprisingly good effect on the skin as well as the hair.
7. Give your hair the 'Silk' Touch- while sleeping
It has been found out that silk pillowcases are actually better for your hair. The hair may get damaged while sleeping- due to pillowcases made from coarse materials. However, silk is easy on the hair- preventing split ends and breakages. A night of healthy sleep is good for the skin and now, good for the hair too. Hence what's stopping you from going for that beauty sleep?