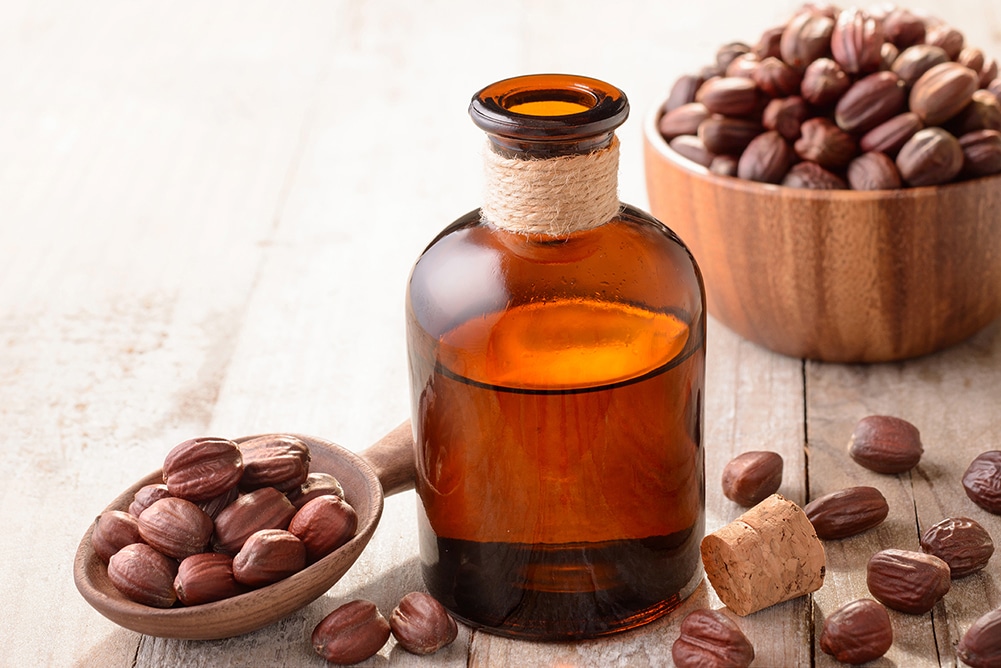 JOJOBA OIL, BENEFITS FOR SKIN CARE
Where does Jojoba oil come from?
Jojoba Oil comes from the jojoba plant, which is a perennial plant that is grown in North America. However, the nut from the jojoba plant is what ends up being made into the oil. You can use it by mixing it with other essential oils, however, it can be used by itself as well.
What are its Benefits?
It has many health benefits for your skin, for example:
1. Use as a preventative measure.
If you used this oil as a moisturizer, it can protect your skin from losing moisture. Because of this, it may also help prevent acne, bacterial infections, and dandruff from becoming an issue.
2. Jojoba oil protects against bacteria.
Jojoba oil can kill bacteria and fungi that may cause E. coli infections, salmonella, and candida.
3. Contains vitamin E, which is helpful as an antioxidant.
It will fight against oxidative stress caused by pollutants and other various toxins because of its antioxidant properties.
4. Jojoba oil helps with acne.
Since the jojoba oil is like the oil your own skin makes, it can lead to fewer breakouts and acne, while also being less likely to clog your pores. It also will not build up on your skin with multiple uses. And because it is antimicrobial, has anti-inflammatory properties, moisturizes, and has other healing properties, it can help with any breakouts you already have, or prevent ones from happening.
5. Jojoba oil is hypoallergenic.
It is rare that you would have an allergic reaction to jojoba oil, as it is hypoallergenic. The oil has waxy properties, so it tends to create a seal on the surface of your skin. This protects you from toxins and other various pollutants in the air.
6. Jojoba moisturizes and soothes your skin.
This oil is like your own skin's oil, so your skin becomes soothed and moisturized the minute you apply it to your skin. This prevents acne and reduces the oily look your skin may produce. When this happens, your hair and sweat follicles tells your body that you do not need to make anymore because it believes the jojoba oil is the same as what your body produces.
7. Jojoba may help produce collagen.
Since jojoba oil has antioxidant properties, it may help your body produce collagen. This is a protein that is needed to improve collagen synthesis. As you age, your collagen levels get lower, which is found in your joints, skin, and any other part of your body that is made of cartilage.
8. Jojoba oil has wound healing properties.
Studies show that jojoba oil can help your body heal quicker when you get a scratch or cut. It can also treat acne and scarring caused by acne. This is because it stimulates your wounds to heal faster due to its naturally occurring vitamin E nutrients.
9. Can help with eczema and psoriasis issues.
It may relieve itching, flaking, dryness, and other related issues for your skin and scalp. It also has anti-inflammatory properties, which can help those with eczema and psoriasis.
10. May help with sunburns.
It has been used in sunscreen products already, so when you combine the vitamin E with other antioxidants, which the jojoba oil does, it will help against sun damage. If you already have a sunburn, jojoba oil can restore any damage done by the sun such as dehydration and flaking. It helps moisturize your skin and soothes other symptoms of sunburns.
11. Reduces signs of aging on your skin.
Jojoba oil may have the benefit of slowing signs of aging in your skin. Since other similar plant products with properties like jojoba oil show elasticity improvement for your skin, jojoba may also help with wrinkles and fine lines on your face. This is due to the antioxidants in the jojoba oil and how it can restore your skin from the stress caused from oxidation.
12. Helps your skin with scarring.
It can heal your scars and reduce the length of time that scars are present on your skin. This is from its wound healing properties along with the vitamin E it contains, which helps revive and regenerate your skin.
13. May be used for dry, cracked lips.
It will soothe and reduce the dryness of your lips by making them nice and smooth.
Potential Side Effects
Since jojoba oil is hypoallergenic, it is unlikely to cause any side effects. However, you should still check to make sure you are not allergic to it. Apply a small amount on your forearm and cover with a bandage. Wait 24 hours and remove the bandage, if there's no irritation you are clear.