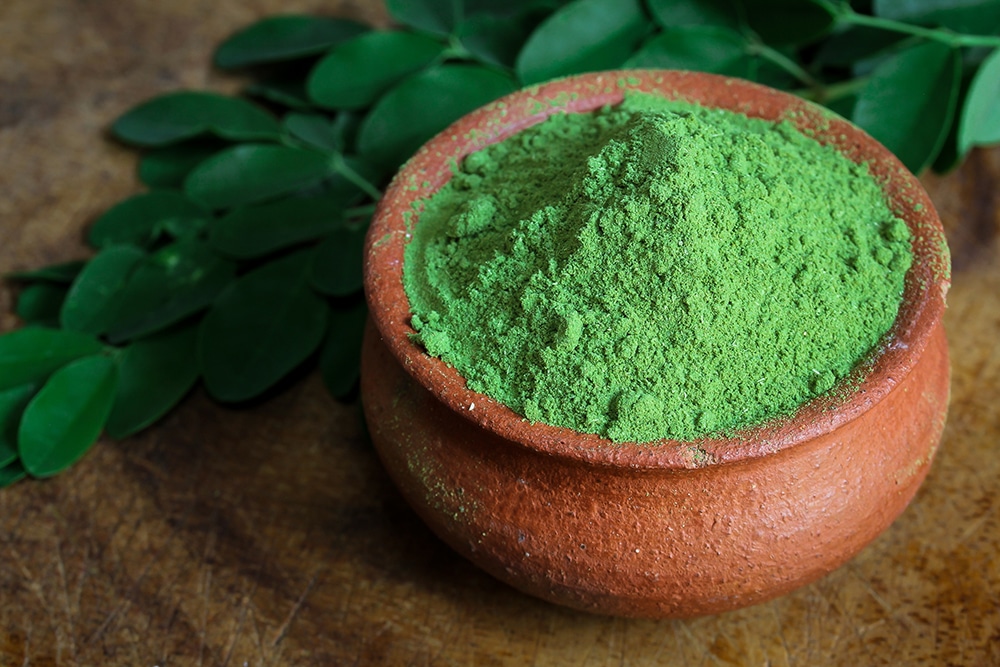 The moringa plant is also known as 'drumstick tree', 'tree of life' or 'miracle tree'. This particular plant is found both in Nepal as well as India. Due to its various benefits which have been proved by scientific analysis, it has been given a lot of different names.
Moringa Powder is made from the leaves of the moringa tree. It is famous because of its nutrition profile, anti-inflammatory and antioxidant powers, and a long list of health benefits.
Moringa powder has been used as traditional medicine for ages. Here are some benefits of moringa powder:
Nourishment of skin and hair
Moringa seeds and powder keep our hair clean and healthy. One of the major reasons behind this is the hight amount of protein that is present in the moringa powder. This makes it an excellent protector of our skin. Along with this, the presence of detoxifying elements and hydrating elements boost the skin and hair.
● Treatment of oedema Natural face mask for pimples
Oedema is a medical condition wherein specific tissues fluids build up in the body. The anti-inflammatory properties of moringa powder prevent inflammation from taking place.
● Liver Protector
Protecting the liver against diseases is one of the significant health benefits of moringa powder. Damage caused by anti-tubercular drugs can be reduced to a great extent, with the help of this powder. It prevents hepatitic liver diseases. Along with this, essential enzymes required for the smooth functioning of the liver is also restored.
● Treatment and prevention of cancer
Using moringa powder can go a long way when it comes to treatment and prevention diseases such as cancer, asthma, diabetes and many other such conditions. The presence of a very high level of antioxidants prevents damage from being caused by chemicals known as free radicals, which are a significant cause of cancer. Developing an overall healthy immune system is also the result of using this powder. This is mainly because of the presence of amino acids prevent in this powder. Along with cancer, a lot of respiratory and digestive diseases are also prevented by this powder.
● As a rich plant-based protein source
Moringa powder can be used as a rich source of plant-based protein. Many body enthusiasts use this power over animal protein as it is more eco-friendly, and also more ethical when it comes to personal beliefs and prejudices. Not only for human consumption, but moringa powder has also started replacing animal fodder as well. Instead of using soybean as fodder, farmers are using moringa as a replacement more often.
● As a stress relief
According to the Research Journal of Pharmacology and Pharmacodynamics, moringa powder proves to be an excellent stress reducer. Moringa leaves are a very effective, natural and powerful adaptogen. Adaptogens prevent our body from getting stressed. Moringa powder has forever been used as Chinese and Ayurvedic medicine. Improving attention span and also the endurance when feeling fatigued is also a very highly regarded use of moringa powder. Not only does it help in dealing with stress, but moringa powder also helps in the general well being of our body.