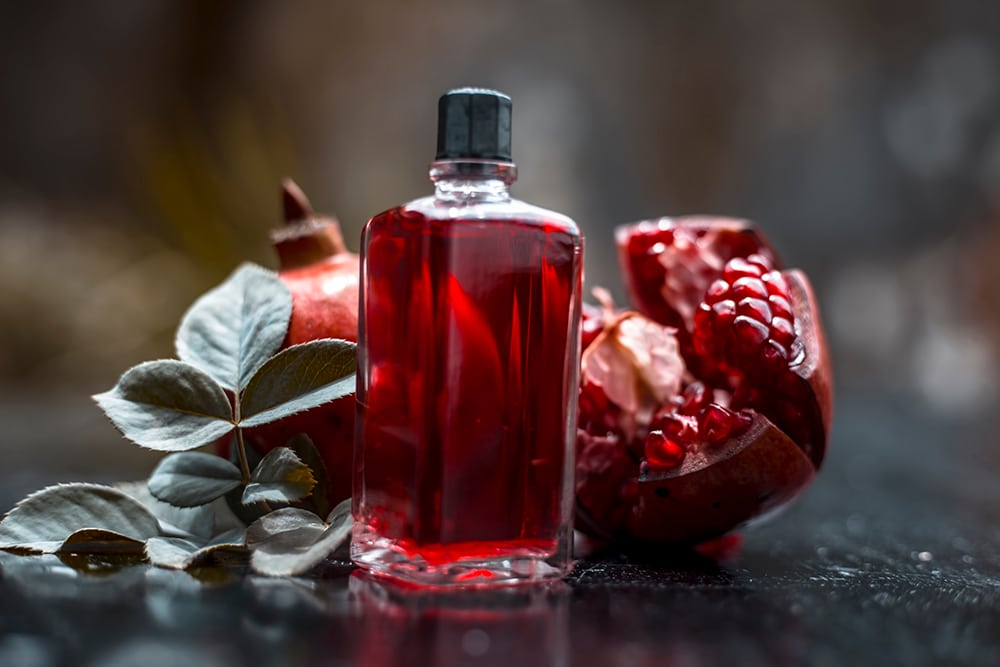 POMEGRANATE OIL, THE BENEFITS OF NATURE'S POWER FRUIT
Where does Pomegranate Oil come from?
Pomegranate is known for its sweet and delicious taste and has many medicinal benefits, too. It comes from the medieval Latin term pomum which means apple and granatum which means seeded. This fruit-bearing shrub with botanical name Punica granatum has clusters of sweet, juicy and gem-like seeds which are also called arils. It's fibrous and has great amounts of Polyphenol, potassium, Vitamin C, and minerals.
Pomegranate oil is extracted from the seeds using the cold-press process to ensure that the enzymes and nutrients are retained. This essential oil yields many health benefits and also good for the skin and hair. Let's get to know the great benefits and uses of this popular oil.
Origin and background information pomegranate oil
1.The pomegranate originated from Iran and the Himalayas in Northern India and was introduced to America by Spanish settlers around 1769.
2.India is known as the largest producer and exporter of pomegranates. It's now also widely produced in Turkey, Morocco, China, Afghanistan, Japan, Cyprus, Italy, and France.
3.Some of the top importers of pomegranate oil are USA and Germany.
The Benefits of Pomegranate oil to your skin and hair
These are the essential benefits of pomegranate oil to the skin and hair:
1.It prevents skin problems like acne and also repairs wounds.
Pomegranate oil contains antioxidants that protects the skin from harmful bacteria and prevents acne as it regulates the production of sebum. It also repairs wounds and skin breakouts minus the scars.
2.It makes your hair healthy and glossy.
This essential oil contains punicic acid that keeps hair healthy, revitalized, lustrous and strong. It also has anti-pruritic properties that cure scalp eczema psoriasis.
3.Pomegranate oil rejuvenates, moisturizes, and hydrates the skin.
It promotes hydration because it deeply penetrates the skin and doesn't clog the pores.
4.It has anti-aging properties and prevents skin damage.
It's anti-inflammatory and improves the skin's elasticity making it firmer. It also stimulates the keratinocytes or the skin's outer layer cells to reverse skin damage and rejuvenate it.
Other Benefits and Uses of Pomegranate oil
5.It has been said that it can help prevent certain cancers.
Pomegranate oil contains antioxidants that may help prevent breast, prostate and colon cancer as well as leukemia.
6.Pomegranate oil is anti-inflammatory.
It eases swelling and muscle pain because of its anti-inflammatory properties.
7.It helps you to lose weight.
Pomegranate oil contains flavonoids that prevent the build-up of fat cells which makes it helpful if you're on a weight loss program.
8.It aids in the prevention of heart disease and high blood pressure.
It has phytochemicals that balance cholesterol levels and helps prevent high blood pressure and cardiovascular disease.
9.The oil strengthens the immunity system.
It increases the body's immunity and prevents hormonal imbalance because of the presence of phytoestrogens.
Potential Side effects
Pomegranate is generally safe to use topically or orally but other people may have allergic reactions to it. Some of the side effects may include swelling, runny nose, itching, drowsiness, and difficulty of breathing. It may also interact with certain drugs like medicine for high blood pressure and may cause allergies during pregnancy. It's best to consult a medical professional before using the oil.
Pomegranate oil has been widely used since ancient times not only for culinary preparations but also because of its countless medicinal benefits. It has anti-inflammatory, anti-pruritic and anti-cancer properties. However, the use of this oil should be made with extra care as it may cause allergies, drowsiness and even chest pain.