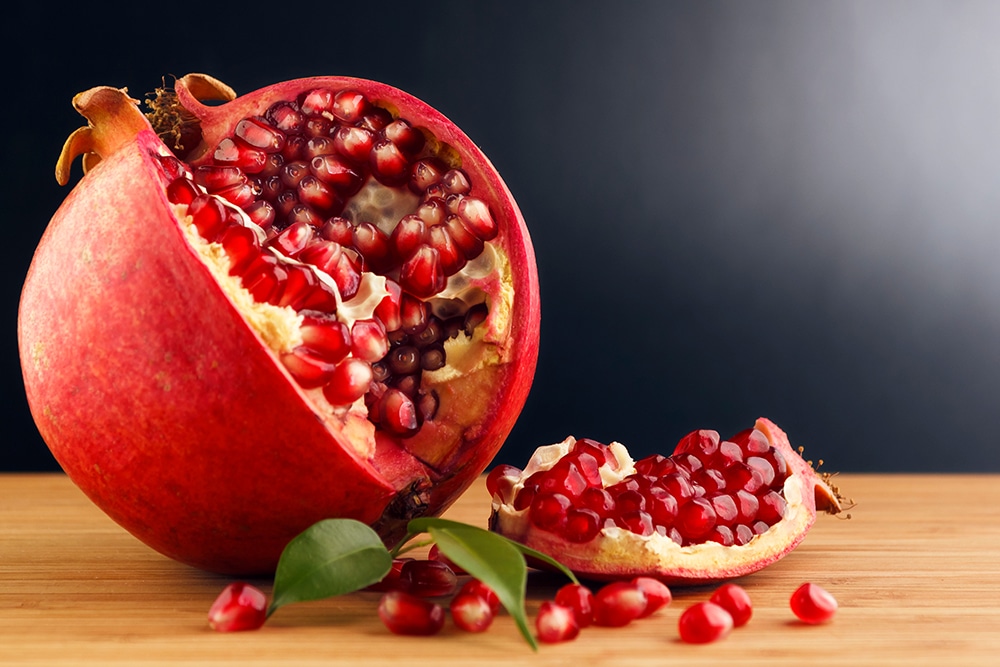 Pomegranate fruit is among the healthiest fruits on this planet. It is also known as a superfood. There are various health benefits of pomegranate, whether it is in the form of juice or powder. Pomegranates are rich in antioxidants. It also has properties such as antitumor and antiviral. Pomegranate extract in the form of pomegranate oil and pomegranate powder are a rich source of vitamin A, vitamin C, vitamin E, and folic acids. Consumption of pomegranate for various health ailments has been used since ancient times.
Pomegranate powder is made by grinding pomegranate seed and is dried. Since it is dried, it helps to preserve the nutritional values and enzymes of the pomegranate seeds. Pomegranate powder adds that extra kick of a distinct sweet and tart flavour to both sweet and savoury dishes. Pomegranate powder helps to boost an increase in levels of phytonutrients like antioxidants, folate, potassium, and vitamin C. The benefits of pomegranate powder are as follows:
Rich in Nutrients
The pomegranate tree produces a reddish coloured fruit of pomegranates. Pomegranate powder contains a high nutritional value such as fibre, protein, vitamin C, vitamin K, vitamin E, vitamin A, folate, and potassium.
Protects the body from Free Radicals
The pomegranate powder is rich in oxidants which helps to protect our body from free radicals which causes premature ageing. Free radical is formed because of the deadly toxins present in the environment and also by being exposed to the sun for an extended period.
Fights Cancer Cells
Studies on the health benefits of pomegranate powder for prostate cancer cells have shown that it helps to reduce the production and reproduction of cancer cells and lowers the chances and risk of death.
Prevents Heart Disease
Antioxidants, antimicrobial, and antibacterial present in pomegranates help to prevent cardiovascular diseases. It thins the blood and prevents the formation of clots and coagulation on your blood platelets. This helps to improve the condition of patients with heart diseases.
Prevents Atherosclerosis
The walls of your arteries become hard because of an increase in the level of cholesterol which could result in blockage of your arteries. This happens with the change that occurs in our lifestyle and with an increase in our age. The element of antioxidant in pomegranate can help to prevent bad cholesterol. You can reduce the chances of your artery walls hardening due to excess fat in your body by consuming pomegranate.
Combats against Breast Cancer Cells
Breast cancer is a common type of cancer that occurs in women. Pomegranate powder can help to reduce the reproduction of breast cancer cells and even eliminates them.
Anti-inflammatory Effects
Chronic inflammation can lead to severe diseases such as cancer, Alzheimer's disease and obesity. Pomegranates are rich in antioxidants which also helps diabetic patients which helps to reduce the activity of inflammation in the digestive system.
Erectile Dysfunction
Pomegranate powder can help to improve the dysfunctionality that occurs in males. Various theories have proven this beneficial quality of pomegranate powder.
Improves Memory
A study that was conducted has shown that people who face a problem with remembering things or events drank pomegranate juice every day, and it helped to improve their visual and verbal memory. An experiment that was conducted has shown that the consumption of pomegranate helps to prevent Alzheimer's. Although an experiment on human beings is yet to be done to prove this point.
Lowers Blood Pressure
Pomegranate May Lower Blood Pressure
A research that was conducted on the beneficial qualities of pomegranate powder for blood pressure has shown that it helps to reduce an increase in blood pressure in human beings significantly. Having high blood pressure could lead to strokes and heart attacks.
For more inquiries about uses of pomegranate for skin, hair and health, click here.