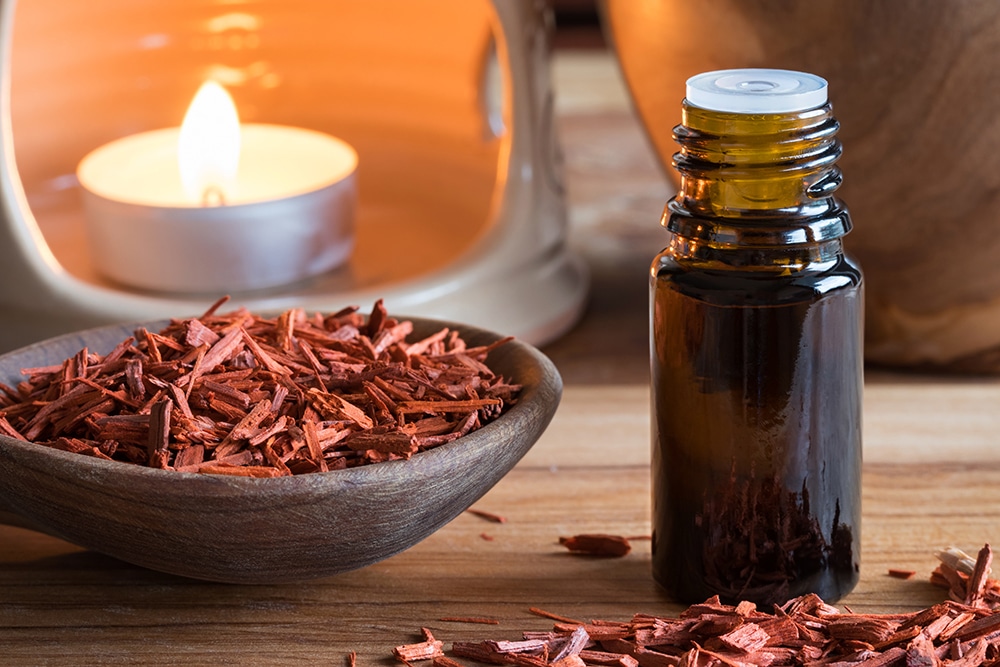 Sandalwoods tree comes from the family of Santalum. The woods of sandalwood are yellow in colour and are heavy. Unlike most aromatic woods, sandalwood retains their scent for many years. Sandalwood oil and sandalwood powder are extracted from the sandalwood tree. This tree can be found in several parts of Australia and India. The sandalwood tree is grinded up into a fine powder. Sandalwood powder has a lot of benefits which are effective and beneficial for the skin and has been used as an Ayurveda or Ayurvedic product. This powder prevents the skin from getting infected, protects the skin from Ultraviolet rays, fights acne and pimples and also helps to fight ageing and wrinkles that come with old age. Sandalwood can also give an individual the natural and youthful glowing skin that he or she desires. Sandalwood powder has been used as a mask since the ancient times. The pack made out of sandalwood powder is natural and free from any synthetic, metal and harmful chemicals.
The benefits of sandalwood powder are endless for your skin and can help one to achieve that flawless skin that they desire. The uses of this powder for various skin types, they are as follows:
Provides Nourishment
The beneficial elements of sandalwood powder help in providing your skin with proper nourishment. It hydrates, nourishes and helps to soothe the skin to its roots. The powder is free from all harmful chemicals and helps to keep the skin healthy, youthful and glowing.
Radiant Skin
Sandalwood powder is an organic and natural powder which helps to add that glow and radiance that your skin needs. This organic powder in your skincare regimen can help to enhance your beauty naturally.
Dry and Flaky Skin
The essential elements of sandalwood can also act as a natural moisturizer for the skin. Sandalwood helps you to get rid of those flaky and dry skin on the surface of your body and skin and gives you an effective and affordable solution to your problems. The powder made out of sandalwood is further improved with the help of fuller's earth, almond powder, and calamine which makes the sandalwood powder suitable for facial use. It is the best alternative moisturizing product that could be used to treat dry and flaky skin.
Fight Pimples and Acne
Sandalwood powder is also beneficial for reducing pimples and acne on an individual's acne-prone skin. The face pack made out of sandalwood powder helps to keep the excess oil produced by the pores on your face in control and calms the skin. Oily skin can lead to your pores getting blocked and can further lead to pimples and acne breakouts. With this natural powder, you can get rid of acne and those stubborn pimples and achieve clear skin.
Protects the skin from UV rays
The beneficial properties of the powder also help to protect your skin from getting sunburnt by the harmful UV rays of the sun.
Prevents Skin Infections
The powerful antiseptic properties of sandalwood powder help to prevent your skin from getting rashes and infected from wounds or cuts. It protects the skin from various infections and has been used since the Vedic Age.
Brightens the Complexion
Sandalwood powder helps to get rid of scars and marks caused by acne or a cut, and it is a good alternative for skin brightening. Using this powder regularly can help to brighten the complexion effectively.
Blackhead removal
Sandalwood powder can also be utilized to remove those stubborn blackheads on your face. It is a natural remedy which helps to decrease the appearance of blackheads naturally.
Anti-ageing
This organic yet non-chemical powder helps to reduce fine lines and wrinkles and other signs that appear on the skin after you cross the age of 30 and helps to keep the ageing process at bay.