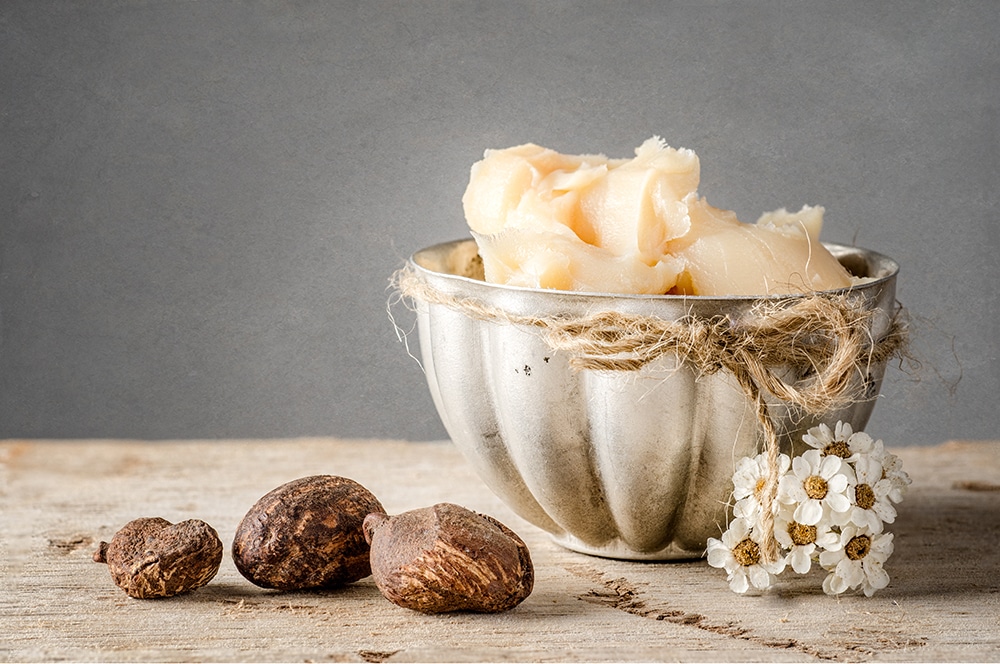 Shea butter is extracted from a nut from the African shea tree. When in its raw form its colour is ivory whereas the most processed version of shea butter could be white. Shea butter is used in several African cuisines. It is often used as a substitute for cocoa butter. Several researches have shown that shea butter penetrates the skin and moisturizes one's skin adequately to its depths.
If pomegranate is known as a health superfood, then shea butter is known as the superfood for the skin. It is rich in Vitamin A, Vitamin F, and Vitamin E. It also provides the skin with ample UV protection from the sun and essential fatty acids which are required for the production of collagen in the skin.
The benefits of Shea Butter are as follows:
As a natural moisturizer
Shea butter is rich in fatty acids such as oleic, stearic, palmitic and linoleic acids and numerous natural vitamins which helps to nourish and moisturize the skin. It helps to moisturize dry and flaky skin and give back the nourishment that it requires. The oil of shea butter absorbs into the skin rapidly and helps to restore lipids.
Anti-inflammatory
It has been found that shea butter is rich in anti-inflammatory properties. A compound called lupeol cinnamate that is found in shea butter had been found to reduce inflammation on the skin and also helps to minimize mutation of the skin. Shea butter triggers a cell called cytokines which helps to slow down the production of infection.
Anti-ageing
Shea butter also contains anti-ageing elements which if true, can help to promote the production of collagen and new cells on an individual's face. This helps to reduce the appearance of wrinkles and fine lines on ones face.
Antioxidants
Shea butter is rich in vitamins which helps to increase the activities of antioxidants. Antioxidants help to reduce the signs of anti-ageing and also protects the skin from free radicals which could lead to dull-looking skin and ageing of the skin.
Fights Skin Infections
The powerful elements of shea butter help to combat infections that occur on the surface of the skin, which appears due to fungi. Shea butter eliminates the spores of fungi which can cause athlete's foot and ringworm.
Prevents acne
Shea butter is rich in various types of fatty acids which helps to reduce the production of excess oil on the skin, also known as sebum. It also helps to nourish the skin and lock the epidermis of your skin.
Regenerate cells
The moisturizing and antioxidant elements of shea butter help to regenerate the skin and make it more healthy. Your body creates new skin cells every day and also gets rid of dead skin cells.
Reduces scars and the appearance of stretch marks
It is believed the shea butter helps to stop keloid fibroblasts which prevent the skin tissue from reproducing. This encourages the growth of healthy skin and prevents stretch marks.
Protect the skin from the sun
Shea butter helps to protect the skin from the harmful ultraviolet rays of the sun. By applying shea butter under sunscreen, you can produce your face with proper protection from the sun.
Treats conditions like eczema, psoriasis, and dermatitis
Shea butter contains anti-inflammatory elements which help to soothe the skin affected by eczema and dermatitis. Shea butter absorbs into the skin rapidly, which helps to give relief from itching caused by such skin conditions.
Reduces Dandruff
To reduce dandruff, you need to restore the moisture to your irritated and dry scalp. A study that was conducted has shown that shea butter when used with shampoo, helps to reduce dandruff.