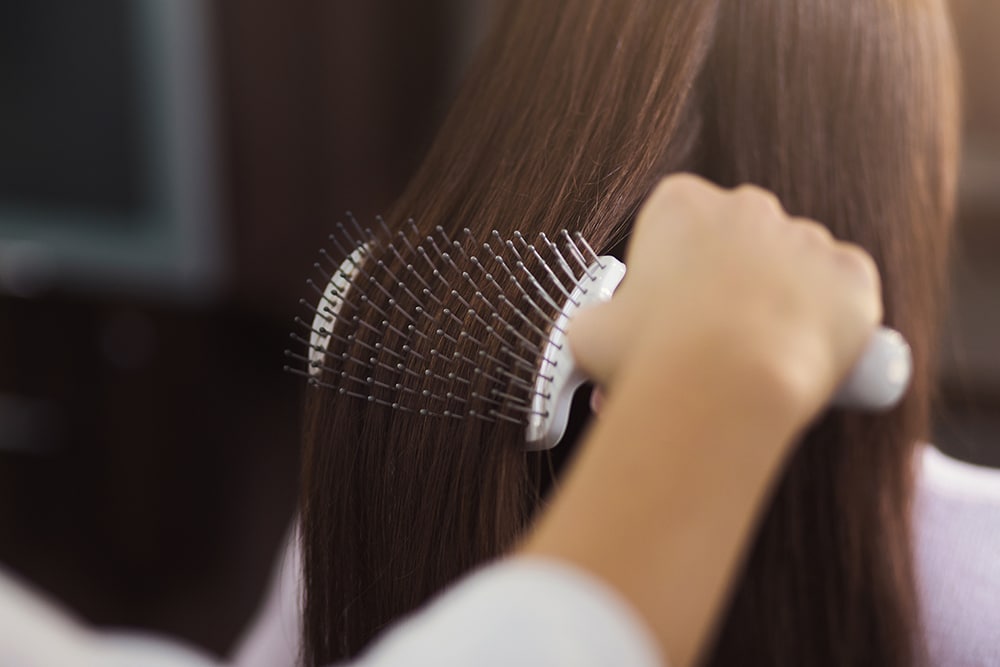 Hair fall is a common problem in men and women alike. Various reasons can be linked to thinning hair and bald patches among people. While it may be that certain factors are not present/occurring in your lifestyle- there are often some that get overlooked. Some factors that have been attributed to thinning hair are improper diet, hereditary reasons, factors related to the environment (pollution, etc.)
Thinning hair is different from the widespread hair loss as it refers to a receding hairline, spots of thin hair on the head. It is a known fact as people start to get older, they start losing the volume and thickness of the hair. Thinning hair is not considered a serious health condition, however, it is often found to be the reason behind poor mental conditions- with feelings of low self-confidence and/or esteem. Thinning hair is not usually linked to baldness(baldness is linked to widespread hair loss.) Listed below will be some natural remedies for thinning hair but as always, it is still better to consult a doctor/dermatologist for the best results.
Causes
A variety of reasons may be attributed to thinning hair. Some of the notable ones are:
Weather: Hair fall is known to increase during cold and dry weather. The dryness causes the hair to become brittle, and they break off, leaving split ends.
Hairstyle Choices: Various hairstyle methods and procedures are harmful to the hair in the long run and later leads to hair fallout. Colouring, extreme hold sprays/gels, perms, etc. are all harsh to the hair and should be avoided at all costs, if possible.
Bad Habits: Pulling out your hair under tense situations damages the hair follicles through which new hair regrow. On average, a human head loses around 50-100 strands of hair a day. New hair regrows from the same hair follicles. Hair pulling, binding up the hair too tightly is detrimental to the growth of the new hair.
Improper diets: Basically, hair is made up of the protein called keratin. The deficiency of proteins, iron and folic acid- can lead to hair loss. Minerals and vitamins help the hair follicles to regrow hair naturally.
Remedies
From ancient times, several methods have been tried and tested for hair regrowth. There have been various herbs and medicines in different cultures. Some of the most popular home-made/homegrown remedies include:
Eating foods that promote Hair Growth: Since the diet is an essential factor for hair fall- eating foods that promote the growth of hair is a good option. Eggs are one of the most complete balanced food items, containing protein along with a right amount of vitamins necessary for proper hair growth. The omega-3 available from fatty fish or walnuts is good for hair, along with selenium (available in Brazil Nuts) or Vitamin D(available in several foods such as mushroom, egg yolks, milk, cereals, etc.)
Essential oils: There are many oils that are considered suitable for the hair. It is suggested to dilute them in carrier oils such as coconut oil, before applying them on the scalp and massaging gently, from the root to the tip of the hair. Hot massage oil is known to be beneficial for hair growth, increasing blood circulation in the scalp. Aromatherapy experts suggest oils extracted from Lavender, Rosemary, Jojoba, Tulsi to be beneficial for the hair.
Food Supplements: In the present day, there are several food supplements available that are known to be helpful in hair growth. Multivitamins, iron and folic acid supplements can be consumed to prevent the body lacking from nutrients.
Minoxidil: Minoxidil has been proven to be scientifically effective in hair regrowth and prevention of hair fall. It has become widely popular within the past few years and is generally considered a safe and assured option for almost everyone suffering from hair fall or thinning hair problems. It is better to find a visit to the doctor/dermatologist and checking out for allergic reactions(if any) before application.