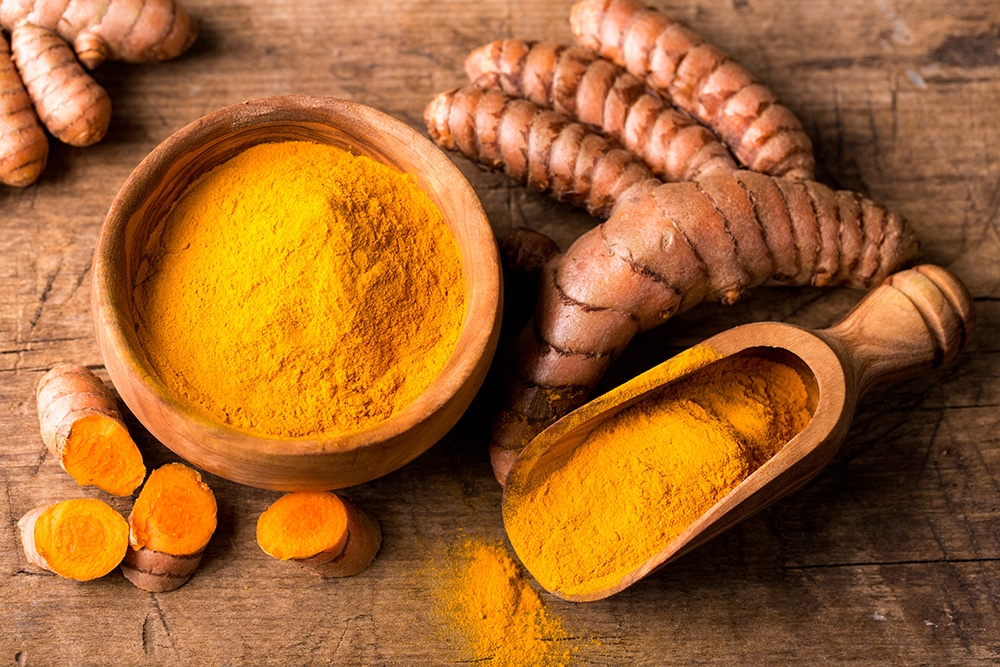 Turmeric powder derives from a flowering plant called Turmeric. This plant is found in the Indian subcontinent and other Southeast Asian countries. The organic turmeric plant is mostly used in making Ayurvedic medicine. Turmeric powder is the most effective supplement for getting all the nutrients that your body needs. Several studies and researches have been conducted that has shown that turmeric powder has beneficial qualities for an individual's health; both body and mind. Turmeric powder is also used in Indian cuisine.
The various health benefits of turmeric powder are as follows:
As a spice
Turmeric powder has been used as a condiment in Asian cuisine for centuries. It adds a distinct flavour and yellow colour to the food. Turmeric powder is known as the main spice ingredient for curries. It has a bitter and warm taste. Turmeric has a unique taste with a touch of the numbing quality of pepper. Turmeric powder is an essential spice that is used in every Indian household. The powder has natural anti-inflammatory and antioxidant elements.
Turmeric powder helps in providing relief from pain
Turmeric powder contains a powerful compound called curcumin which has anti-inflammatory properties. This helps to fight the foreign elements present in your body. This anti-inflammatory property of turmeric powder has been used to reduce pain caused by Arthritis such as Rheumatoid Arthritis and Osteoarthritis. The antioxidant property helps to destroy the free radicals in the body, which causes damage to the cells. Inclusion of turmeric powder in your diet helps to relieve the pain and inflammation that occurs in your joints due to Arthritis. However, this should be used as a substitute for the medication that has been prescribed to you.
Alzheimer's
Turmeric powder contains another powerful compound called aromatic turmerone. Research has shown that this compound helps to repair the damaged stem cells of the brain. These stem cells can help in improving ailments like Alzheimers and stroke.
Turmeric Benefits for Digestion or Bowel Disease
Turmeric powder also helps in digestion problems. The essential constituent of the powder helps to stimulate the gallbladder to produce bile which helps improve the digestive system. This component also helps in reducing gas and bloating.
Improves the condition of the liver
According to studies, the antioxidant elements of turmeric powder is powerful enough to stop the toxins in your body from further damaging your liver. Turmeric powder is an excellent addition to an individual's diet if he or she is continuously under strong medication for any ailment which could damage their liver if consumed for an extended period.
Healing properties
Turmeric powder can help to treat infections, cuts and burns. It is a natural antibacterial and antiseptic elements which makes it an effective disinfectant. By sprinkling turmeric powder on the wounded area, it helps to heal faster.
Boosts immunity
A unique substance found in turmeric powder is called 'Lipopolysaccharide'. This element has antiviral, antibacterial and antifungal properties. These elements help to improve the immune system of a human being. Mix turmeric powder with a glass of warm milk, and it will help to reduce the chances of you catching the flu.
Cancer Prevention
The compound curcumin has shown properties that could be used for treating cancer cells. It helps to reduce the risk of various types of cancer, such as prostate cancer, multiple myeloma, and pancreatic cancer.
The healing properties of turmeric powder and its benefits have been proven scientifically. It has been proven that turmeric powder helps in preventing Alzheimer's, cancer, and heart diseases. It is anti-inflammatory, antioxidant, and antibacterial properties help to reduce pain caused by arthritis and other ailments. This spic helps to improve an individual's immune system and can also improve your digestive system. Nevertheless, it is essential to be careful while using turmeric powder. Consult with your doctor before using turmeric powder as a supplement for your medications.