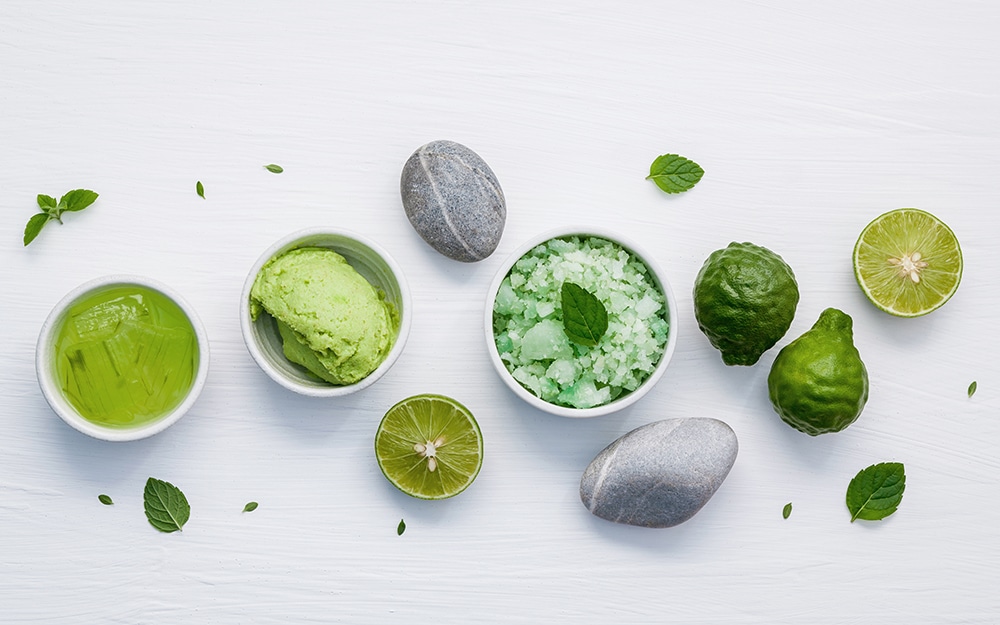 What is a body scrub? A body scrub is a mildly abrasive substance scrubbed on your skin along with a base element like butter or oil to remove any dirt or pollutant from your skin and leave your pores open. This helps in rejuvenating and smoothing your skin.
What is in a body scrub?
The main element of any scrub is an abrasive substance, which can be anything like salt, sugar, silica, coffee ground, jojoba beads, and others. The base for the scrub is usually a moisturizing substance like oil, glycerin, butter, or others. Apart from these, any essential oil or aromatic elements can be added based on individual preferences.
How to use a scrub?
The area where you are about to apply the scrub should be washed with warm water. This opens up the pores, allowing you to exfoliate your skin easily. Scrubs should be rubbed in a circular manner and left on your skin, allowing it to absorb the components. Rinse off with warm water and pat it dry.
After scrubbing, moisturizing lotion is applied to hydrate the skin. Do not use soap or face wash solution, right after scrubbing. In some cases, therapists use a steamed towel to wipe down the scrubbed area, instead of washing.
Benefits of using a body scrub
It removes dead skin, impurities, and others, thereby making your skin look young and fresh.
Removing the dull, dead skin from the face can increase the appearance of your skin.
If you have dry skin, using a body scrub will make your body more acceptable to the moisturizers. Your skin will have the ability to absorb moisturizers more effectively.
Draws out toxins blocking your pores, thereby reducing the chances or effects of acne or other skin problems.
How often can one use body scrubs?
Even with all-natural scrubs, one should not use it more than once or twice a week. Scrubs basically scrape off the dry and dead skin. Overusing it can lead to skin damage and sensitivity to light.
Who should not use body scrubs?
Anyone with skin problems of any level should not use a scrub, especially in the affected area. Scrubbing can cause skin irritation and can reduce the speed of healing. If you have rash or sunburn, scrubbing is not recommended. If you are looking for scrubbing as a solution to any skin condition you have, talk to your dermatologist before trying it out.
Different types of scrubs
The kinds of scrub usually depend on the type of abrasive material used. Top scrubs found in spa are sugar scrubs, salt scrubs, herbal scrubs, and moisturizing scrubs. Some speciality spas provide signature scrubs like clay scrub, mineral sand scrub, coffee scrub, or even chocolate scrubs.
Can facial scrub be used as a body scrub?
No, and the converse is also not recommended. The facial skin and body skin are very different. Thus, body scrub needs a stronger or concentrated abrasive component and acidic elements to exfoliate the skin. Using facial scrub as body scrub will not cause any side effects, but would not give you the result you desire. On the other hand, using body scrub on your face can lead to skin irritation.
Last but not least, the ingredients used in the scrub should be of high quality. Thus, it is essential to choose branded body scrub or completely natural scrubs. It would be best if you consult a dermatologist before taking up any treatment, especially when you have any skin related medical condition, currently or even in the past. If you are choosing a spa for scrubs, stick to reliable one with highly experienced and certified therapists.